Do you want to play a game?
Your favorite torture horror movie is making a comeback. Yes, there will be another CATS movie. Got ya! But for real Saw is making another movie. The Saw series is a horror franchise that makes millions. The usual budget of Saw movies is around 1-17 million dollars. However, that's not the best part. Every time a Saw movie is released, it doubles, triple, or even quadruple the budget it was given, so its no surprise a new one is coming out.
Not feeling it.
The next movie will not have Saw in the title. It's being called Spiral; after the symbols that Jigsaw, the antagonist of the movie series leaves behind. Honestly, I'm not feeling the trailer. The movie stars Chris Rock (Top 5, Grown-ups, Madagascar) and Samuel L. Jackson (Pulp Fiction, Marvel Avengers, The Hateful 8). After viewing the trailer, all I can say is that the scenes look great. I'm not impressed with Chris Rock being the lead. I'm not sure if its because he's a comedian or that his facial expressions aren't serious to me.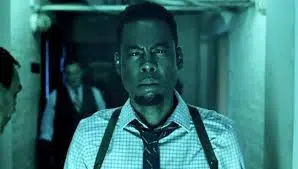 It's clear that Chris Rock is a detective and will be playing a game in the movie. But the real question is what will Samuel L. Jackson's role be. He may be ex-detective, PI, or someone that wants revenge. But Samuels's role might be more critical. The Saw franchise usually has a lot of twists and turns.
What should we know?
As of right now, we know that Chris Rock is the executive producer of the movie, and Darren Lynn Bousman (Saw 2-4) is directing it.
The move is set to release May 15, 2020, and a lot of fans are probably waiting to see what genius and cruel ways the captives are going to die. We will keep you posted when reactions or our review when we see it.
If you are excited about this movie comment below and let us know why or tell us what is your favorite movie from the Saw franchise.