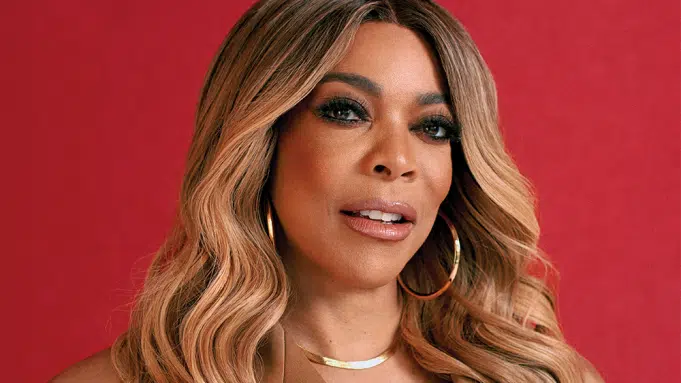 We worry for Wendy Williams. Is your girl okay? According to The U.S Sun, Williams is seen sleeping inside the Louis Vuitton story in SoHo, NYC. A tipping glass of champagne sits next to the former radio and television host. Fans speculate that Wendy is could be relapsing. The picture of the celebrity appears to be Wendy lying on a bed with her legs and arms crossed. But is Wendy just taking a nap? It's hard to tell if it is just a regular nap with Wendy due to her bouts with alcoholism in the past. Two men, who appear to be security guards for the store, surround Wendy in another photo.
Wendy Williams, Are You Okay?
Hate her or love her, Wendy is the ultimate "It" Gossip girl with a pretty heavy fanbase. She is known for her controversial conversations and getting in feuds with fellow  celebrities. A few of those feuds include Wendy and NeNe Leakes, Dionne Warwick, Evelyn Lozada, Ariana Grande and more. Fans know that Williams will readily have the tea, even about her own life. Williams is very open about her struggles with addiction and mental health. In June, Wendy would be candid about her dealings with ex-husband Keven Hunter, in US Weekly this past June. Nevertheless, Wendy is still out here believing in love. In a recent report, the upcoming podcast host announces that she is a wife! However, TMZ states that Henry, who is a police officer for NYPD, is not Wendy's new hubby. Reps say she is not married.
Undoubtedly, Wendy is back in the spotlight with more worrisome behavior, which is unfortunate. Williams is planning to debut her newest project, a juicy talkshow podcast, while some fans are still in an uproar about her cancelled tv show. Either way, we hope the best for our girl! Hopefully, it was just a quick nap.