Embiid Flips off Hawks' Player
The Philadelphia Sixers' center and All-Star Joel Embiid has found himself in a bit of trouble after the team's most recent game versus the Hawks. The Sixers were up by 17 points with less than 20 seconds remaining in the game when Embiid was dribbling down the court with the ball.
It looked like that was a wrap for the game, but to Embiid's surprise, Atlanta Hawks' small forward, Kevin Huerter, had other plans. As Embiid was dribbling past half-court, Huerter stole the ball from Embiid.
What Transpired
Usually, when there is under 20 seconds, and one team is clearly ahead, players on both sides stop trying to score. There is no need to continue attempting to score since the game is pretty much over.
It would seem that Embiid was in this mindset, simply allowing the clock to run out. But the Atlanta Hawks' small-forward Kevin Huerter wasn't having any part of that. Joel Embiid had a fantastic night of play, putting up 49 points. Huerter was most likely frustrated and saw no need for Embiid to hit 50 plus points.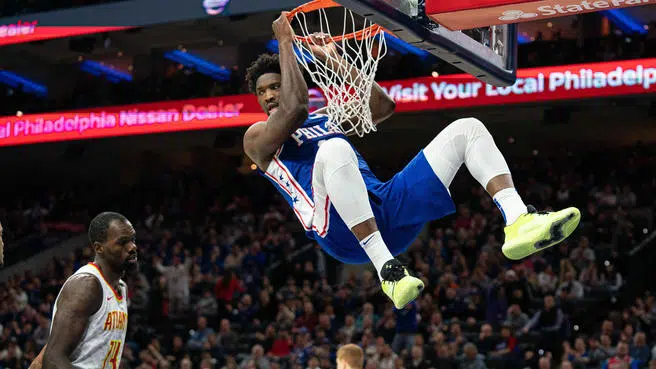 Huerter stole the ball from Embiid, and as a result, Joel gave him the middle finger. It was a quick motion, but a countless number of people were watching the game just as with any NBA match.
The End Result
Joel Embiid was quick to apologize for his actions after the game. Check out this video beginning at the 30-second mark to see what Embiid had to say. It would seem that Joel realized he couldn't be doing stuff like that when so many people are watching the game on TV or in the arena.
No matter Joel Embiid's apology, though, the league was not all too happy with what he did. This resulted in Joel Embiid being $25,000 by the league.
Final Thoughts
Joel Embiid is known for his antics both on and off the court. This is just another example of Embiid getting a little too caught up in his emotions or having too much fun.
What are your guy's thoughts though? Does Joel need to chill out, or is $25,000 too large of a fine for such a simple act?