Colin Kaepernick Unveils Formative Years: Unraveling Identity in Candid Interview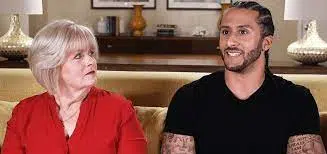 More recently and notably, Colin Kaepernick gave an intimate look into his upbringing in a wide-receiver interview. In this discussion, he outlines key childhood experiences that shaped his outlook and the journey that he took to be socially active, explaining this with CBS journalist Adriana Diaz at the date of March 10, 2023. Herein are displayed racial dynamics inside America plainly.
Kaepernick's early life account depicts how identity and upbringing do not run in plain sight of one another. In fact, having been raised by adoptive parents of a different race, he openly revealed moments that pointed to the complexities of his racial identity. One particular anecdote, in particular, left an especially meaningful impression: his adoptive mother's remark about his cornrows—which she compares to a "little thug"— which captures how stereotypes can creep into family settings quite subtly —a lasting mark is left behind.
In a profoundly racialized society, Kaepernick speaks out against the unintended perpetuation of racism within naïve families. His adoptive parents–driven by love and genuine care–unwittingly fostered an environment where racial biases took hold. The co-existence of their heartfelt affection and the distressing encounters Kaepernick faced underscore the delicate balance between intent and consequence.
Kaepernick's story is not just about him; instead, it but a reflection of the bigger societal landscape as his experiences spawned introspection, finally resulting in catalyzing his transformation into an outspoken champion for racial justice. The interview sheds light on how one evolves consciousness and his resolute tenacity in dismantling systemic injustices affecting marginalized communities.
Along with Kaepernick's story, this interview echoes as a mirror reflecting wider societal norms that merit close examination. The complex interplay of privilege and bias in tandem with the conditioning society imposes upon us, calls for critical assessment and open dialogue. As we take in his experience, we are encouraged and invited to question our own roles—both individually and collectively—in perpetuating or challenging these dynamics.