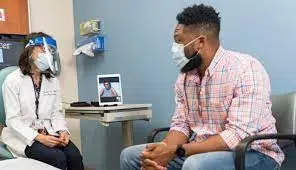 The Black community is a wealth of people who are intrinsically woven inside a societal quilt. This quilt makes up strings including Black life expectancy. Colon cancer is the leading culprit of why African Americans have a decreased life expectancy.
For this reason, the Black community must come to an amends. First, they  must strive to live healthier lives and dump unhealthy eating habits.
Thanksgiving, Christmas and 4th of July Too
Holidays are monumental for the Black experience. It is a time where family members travel afar to see family, and to marvel at grandmother's cooking. Traditional meals are nuances of comfort food and an expression of love and thankfulness.
Though it is delicious, these foods are rich in saturated fats and cholesterol. Desserts are even worse as they contain high amounts of artificial sugars.
Undoubtedly, comparing such to other cultures, southerners make these meals as a means of survival, consuming them daily.
Black Patients vs. White Practitioners
According to AAMC, there are about 5.8% African American doctors who are actively practicing as of 2021.
Post COVID-19, African Americans are apprehensive to seek wellness from white physicians. Some would find a way to correlate the matter with racism; however, it is not always the case.
For this reason, African Americans question their thoughts and fears that center around being hated by healthcare providers. Therefore, alarming African Americans to seek African American healthcare providers. Unfortunately, there is a vast shortage.
Colon Cancer Inside Black Bodies
Colon cancer occurs more in older adult, yet it can happen affect people of  all ages. According to Mayo Clinic, small polyps form, which are usually benign. As they grow, some may grow cancerous. Regular observation from a physician is pertinent, as this can prevent cancer cells from spreading.
Consequently, Black communities face so many fatalities that are often preventable. Colon cancer is common in the Black community due to widespread fear. The procedure is a scary one, as mentioned by another source. Some would rather risk the disease than to check on it, seemingly.
Being afraid is normal, but it is not acceptable to refuse facing those fears head on.
Make a doctor's appointment today, whether if the doctor is Black or white.