Celebrities love going the extra mile to make themselves appear unique to fans. Everyone has their own brand, especially famous people. Celebrities love to express their individuality and uniqueness through the use of hair. However, Kanye West's newest haircut hasn't exactly yielded any positive reactions. Singer Chris Brown certainly made his opinions known about the GOAT's new hairdo. In fact, the singer roasted him hard on social media.
Kanye West's New Haircut
Recently, rap GOAT Kanye West debuted his newest hairstyle and it's definitely worthy of a double take. Furthermore, the rap star flaunted the "¥" symbol itched into his hair, which stands for Chinese currency. There's no real motive behind Yeezy's hairdo besides the fact that the government recently agreed to change his name to just "Ye." It seems that new haircut provided some type of celebratory moment for the rapper. Though, not everyone loved Yeezy's new look. In fact, some of his peers down-right roasted the rapper.
Chris Brown Roasts Yeezy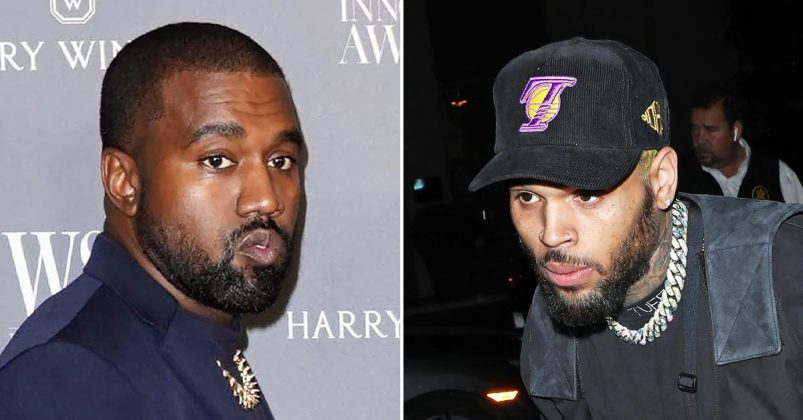 This past Tuesday, Chris Brown took to his Instagram Stories where he posted photos of the rapper flaunting his unusual haircut.
"He asked the Barbour for the fed up worldwide fade. Na wanna make 'what the fuck' in style. He got the punishment haircut." Though, Chris Breezy didn't just stop at one joke.
Rather than letting it, the "Go Crazy" singer posted several follow-up jokes, roasting the now Ye without any mercy. Moreover, Brown made the joke that the "Los Angeles Dodgers fitted cap with holes cut into it." Even more cruel, Brown joked that Steve Wonder gave Ye a haircut. Additionally, he posted wooden log emojis to describe Ye's "wood chipper bowl fade." If there's one person who's made it clear they're not a fan of Kanye West's haircut, it's definitely Chris Brown.