Puerto Rican artist, Bad Bunny, spilled all the beans, every last one of them, last night on The Tonight Show Starring Jimmy Fallon. Bad Bunny, born Benito Antonio Martínez Ocasio, has been blowing up in recent years. He's known as a trailblazer in the world of Latin trap music.
Since his breakthrough in 2016, Bad Bunny has already collaborated with some pretty big names like Drake, Cardi B, JLo, and J Balvin. Last night, the singer appeared on the Tonight Show with Fallon, who asked some burning questions.
Bad Bunny fans have been wondering for a while now if and when he will debut a new album. Twitter did what Twitter does best and started putting the pieces together.
1. PALO 🔥

2. PALO 🔥

3. PALO 🔥

4. PALO 🔥

5. PALO 🔥

6. PALO 🔥

7. PALO 🔥

8. PALO 🔥

9. PALO 🔥

10. PALO 🔥

11. PALO 🔥

12. PALO 🔥

13. PALO 🔥

14. PALO 🔥

15. PALO 🔥

16. PALO 🔥

17. PALO 🔥

18. PALO 🔥

19. PALO 🔥

20. GRACIAS! 🖤

— B (@sanbenito) February 24, 2020
Palo in informal Spanish means 'hit'. Palo x20 indicates…a 20 track album perhaps? Bunny confirmed this when asked by Fallon. So, we're left with the last two burning questions: what and when…
Fallon wasn't afraid to ask and Bad Bunny willingly delivered. The singer revealed his new album will be titled 'YHLQMDLG'. The acronym is short for 'Yo Hago Lo Que Me Da La Gana', which in Spanish means: 'I do whatever I want.'
Fallon noted Bunny's appearance in the NBA Celebrity All-Star game two weeks ago. Bunny played as number 29 on the court and when Fallon asked what the significance to 29 is, the singer spilled yet another bean.
Hesitantly, Fallon asked "I-is the album release on the 29th?" to which Bunny's facial expression gave it all away. Fallon jumped from his chair and the two were bouncing around the stage in excitement.
"Saturday sounds so far," Bunny said. "I think it's going to be tomorrow at midnight."
There you have it! Tonight at midnight Eastern Standard Time, YHLQMDLG will make its debut.
After the big announcement, Bad Bunny performed 'Ignorantes' with fellow Latin singer, Sech.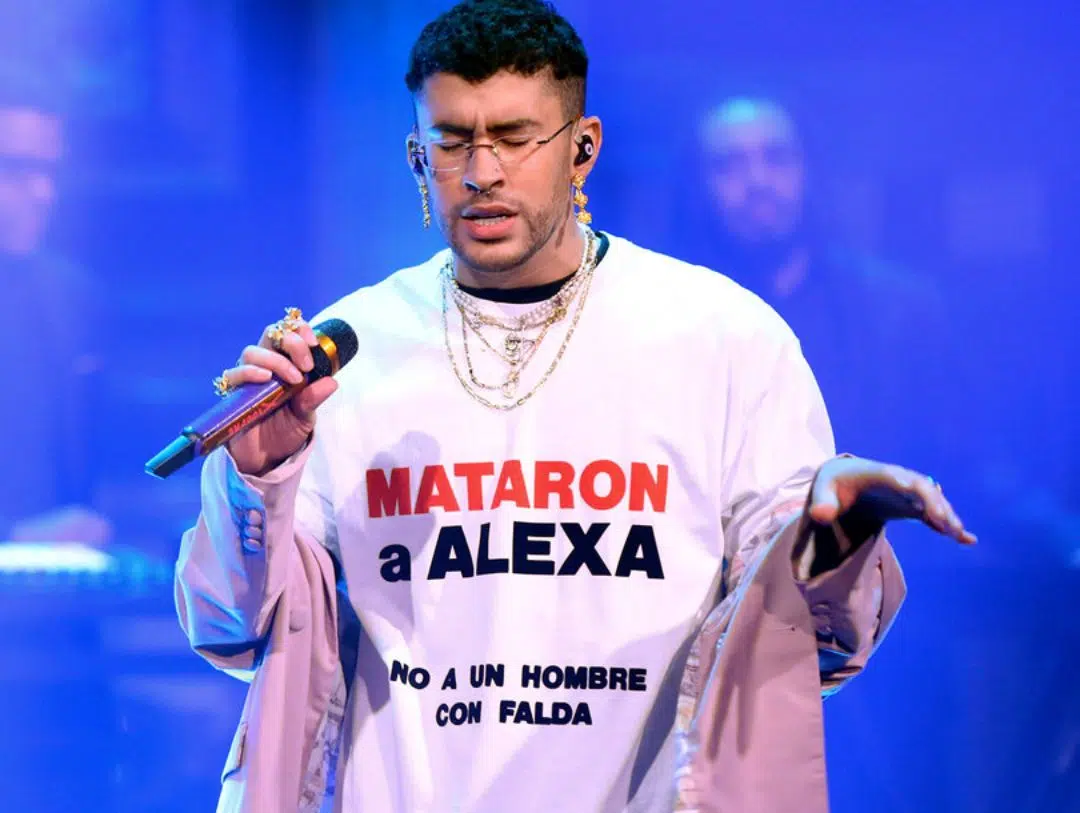 Bunny wore a t-shirt and skirt during the performance that read "They killed Alexa, not a man in a skirt." His outfit choice is a reference to the brutal murder of transgender Puerto Rican woman, Alexa Negrón Luciano. Her violent death has ignited outrage and conversation about homophobia and transphobia in Puerto Rico.
Will you be listening to the new 20-track setlist? Are you a Bad Bunny fan?
Lastly, let us know your thoughts in the comments!