'Free Larry Hoover' Concert 
The night that many would never forget, fans from all around the world got to witness a night full of hip-hop's latest hits. Ye and Drake put on a show that filled the LA Memorial Coliseum with life, happiness, and a celebration of music.
"I came from Houston, Texas to come to see this and I could not stop thinking about seeing the power of the two tonight," said Chase Gibson, a concertgoer who attended the 'Free Larry Hoover' concert. "This is going to be a crazy night for music."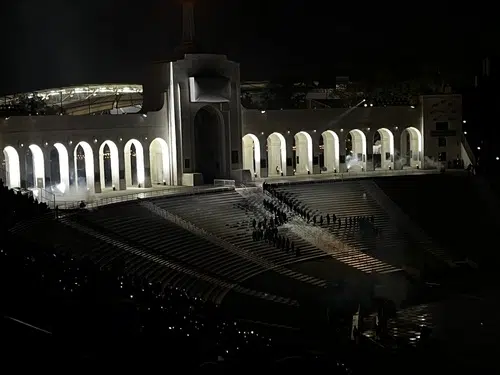 Sunday Church choir praised the show's start. In fact, it brought the concert to a new level that felt uplifting and breathtaking to watch. It was a moment that did not feel like reality for many, including myself, but indeed it was a lovely start to an unforgettable night. 
Sang Classic Throwbacks To Today's Top Hits
"Kanye West is a rapper I look up to and to say the least, his lyrics and tone make him so distinct from others," Cassidy Hills, another ecstatic concertgoer said.
"Tonight is the night I have been anticipating for and being here with my best friends makes it top anything else."
The Donda star performed a variety of his classics "Gold Digger" and "Wake Up Mr.West." Many could see the rapper performing at one of his best and, at times, felt unbelievable. As for the Certified Lover Boy, he brought out a lot of his latest album, "No Friends In The Industry" and "Girls Want Girls." 
Lives 'Forever' In Our Heads
The unifying moment occurred when Ye and Drake ended the night with a song that lives in our heads rent-free, "Forever". And like the song says, "If you ain't been a part of it, at least you got to witness." 
"The power of the two performing together for Hoover was a great end to the year,"  Jasper Reynolds said. "One for the books."