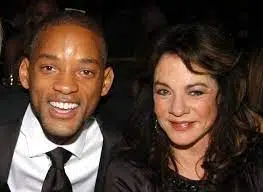 With Jada being in the spotlight lately for her countless embarrassing moments about her and Will's marriage life, Will is speaking up too. According to sources, Will revealed that his first marriage fell apart after he fell in love with Six Degrees of Separation co-star. Will, the victim or at least what fans make him out to be, is stirring the mix on his own this time. Love is fleeting, so they say. Is the Will we know even capable of such a thing? Obviously, this is far before his partnership with Jada.
Will's First Marriage
Sheree Zampino, born November 16, 1967, whixh makes her a Scorpio. Scorpio women are mysterious and deep. Not many know much about a Scorpio woman, unless she makes it known. Over the years, since the separation of the two, the media seemed to overlook Zampino as she's well off the radar. However, she is the mother of Will's son Trey, who is 28 years old.
The couple married in 1992; however, there is a little plot twist. According to Showbiz Cheatsheet, Will's eye for Jada is an infinity thing. Pinkett, an actress on A Different World at the time, a jaw-dropping sassy individual that swindled men all over America—including Smith. Smith, appeared at one of the tapings for the show in high spirits to meet Jada; yet, he ran into Sheree, and began pursuing her. Unfortunately, he did not get a chance to meet Jada that day.
Falling for Stockard Channing
In Will's new memoir, The Best Shape of My Life, the Men in Black star reveals that during the shooting of Six Degrees of Separation, he fell hard for his co-star Stockard Channing, according to Q102.
"During the early months of our marriage and with a newborn baby, I can only imagine how unsettling this experience was for Sheree," Will commented on his ex-wife while shooting the movie. "I felt a strong desire to see and talk to Stockard."
Sheree filed for divorce which was finalized in 1995, although Will never wanted the divorce.
Still, he went on to marry his dream girl, Jada in 1997 on New Year's Eve.