Updated Tesla Model 3: A Bold Revamp for the Electric Age
Tesla has taken the wraps off its Updated Tesla Model 3, and it's not your average upgrade. This electric superstar now sports a longer range and a fresh new look, and it's causing a buzz in the automotive world.
Zooming with Style:
The Model 3's facelift is more than just cosmetic. It rocks a cleaner front-end design with slimmer LED headlights that aren't just about looking good – they're about slicing through the air. This sleek makeover translates into some jaw-dropping news: the Long-Range version can now cruise up to a whopping 677 kilometers on a single charge. That's like driving from New York to Boston without breaking a sweat.
Interior Bliss: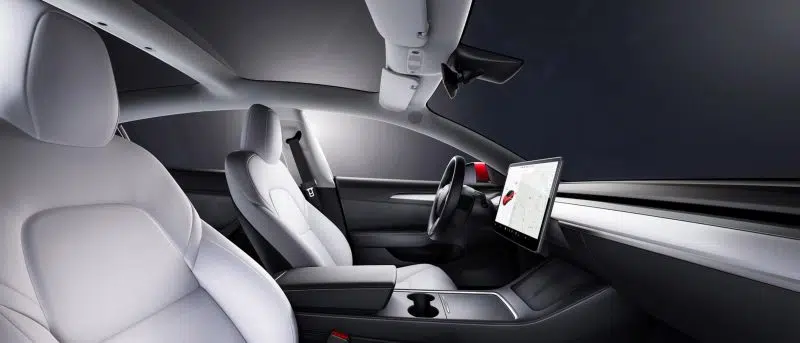 Step inside, and you'll be met with upgrades that redefine comfort. Tesla has dialed up the luxury with top-notch materials, a mind-blowing 17-speaker sound system, and connectivity that'll make your smartphone jealous. They made driving feel like you're on a spaceship instead of just driving to school or work.
Price Tag Tease:
While we're all itching to know how much these new wheels will set us back, Tesla is keeping the pricing details under wraps for now. But here's a hint: the current starting price for the Long-Range version in the U.S. is $47,000. That's a pretty tempting deal for a ride that offers this much bang for your buck.
Global Domination:
Tesla isn't content to rule just one corner of the world. They've launched the updated Model 3 to the European market. So, get ready, Europe – the electric revolution is headed your way.
Mllionaire Milestone:
Since its debut in 2017, the Model 3 has been a hit, with over two million units cruising the streets. The Tesla Model is a very popular and best-selling electric car in the world. It is a lot of people's favorite because it is fast, fun to drive, and has a long range. While we know the rear-wheel-drive and Performance models are sticking around, we're still waiting with bated breath for the details on the flagship Performance version.
Fresh and Flashy:
Beyond the performance and tech upgrades, the new Model 3 is also getting a style makeover. Brighter LED rear lights and two fresh color options give you more ways to strut your stuff on the road.
Tesla is making electric cars better than ever before with the new Model 3. It's not just about going green anymore; it's about going fast, far, and looking darn good while doing it. Tesla's journey to mainstream success just hit the turbo button, and we can't wait to see where it goes next. Buckle up, folks – the electric future is looking brighter than ever.