When it comes to SNL skits, nothing is off limits. Recently, SNL did a skit that addressed the changing sphere of Hip-Hop culture, especially the huge rise of the SoundCloud Rapper generation. Additionally, SNL's skit brought up the very controversial topic of white rappers in the Hip-Hop community. As some can imagine, the episode triggered a lot of mixed responses from audiences. Despite the seriousness of the skit, luckily, there was just enough comedic relief that brought the performance home.
            A Not-So Thoughtful Discussion On Hip-Hop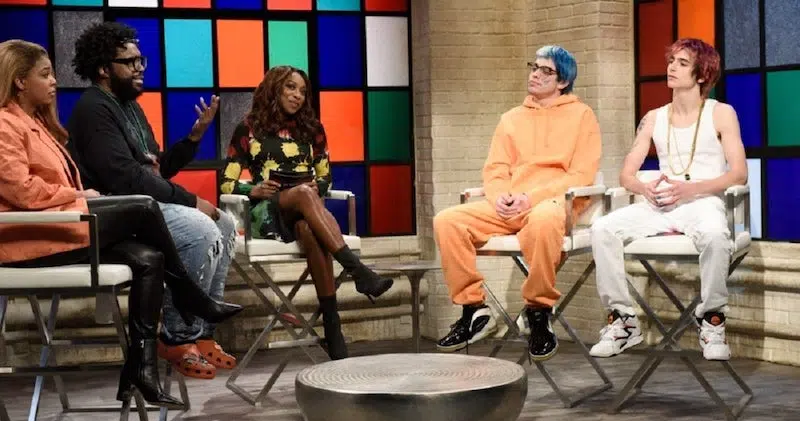 SNL offers a healthy balance of critical news and comedic relief. They've even pushed the envelope a few times. The December 12 skit, however, is probably regarded as SNL's funniest yet cringy pieces of work yet to date. Saturday's episode featured The Roots Questlove who played himself, Punkie Jackson acting as Queen Latifa and Ego Nwodim's as "Nunya Bizness", the host of the fictional show "Rap Roundtable." Questlove and Queen Latifa are joined by Pete Davidson and Timothee Chalamet's "SoundCloud Rapper" personas Guaplord and $mokecheddathaassgetta to discuss the ever-changing Hip-Hop culture.
However, the discussion quickly turns sour when the SoundCloud Rappers express their ignorance and negligence to the culture. Chalamet's $mokecheddathaassgetta obnoxiously shouts that the "yeet"—which Questlove later clarifies as the "party scene" of Hip-Hop—is more important. All while Davidson's Guaplord hilariously only speaks in a made-up "skrrt" language. Neither of the rappers speak in clear or coherent sentences, offering a satirical commentary on current artists today.
            Questlove Slaps The SoundCloud Rappers
The SoundCloud Rappers further show their outward ignorance of the culture by noting their top influences as TikTok videos and KIA car commercials. The "Rap Roundtable" hosts and the two legendary emcees become visibly annoyed and impatient with the white rappers. In fact, when the SoundCloud rappers take decide to perform their hit record "Yeet" Questlove smacks some sense into them. Literarily! Funny enough, Chalamet's character dropped his obnoxious front when phoning his father to pick him up from the show immediately.
The slap Questlove delivered onto both rappers made for a major comedic moment in the skit. Though, it also hinted at the reality with SoundCloud rappers of today. Many of them got their start through a streaming service and have no real work ethic. Others like Davidson and Chalamet's characters know nothing about rap music to begin with. Social commentary meets comedy always gets the message across.