Having completed eight weeks of the 2021 regular season, NFL quarterback rankings have come out, per ESPN. This highlights many backup quarterbacks stepping up this week. Plenty of surprises within this past week, New York Jets Mike White got the Jets their second win of the year, the New Orleans Saints defeated the Tampa Bay Buccaneers without Jamies Winston and the Dallas Cowboys gained a win without Dak Prescott.
This list is compiled of many factors, who's playing well, who's not playing well, and who's on the rise or fall. These lists are created weekly by ESPN writers and analysts. True backups won't be included, although teams with legitimate multiple starting options may potentially have several NFL quarterbacks listed. Without further ado, here are the NFL quarterback rankings through week eight.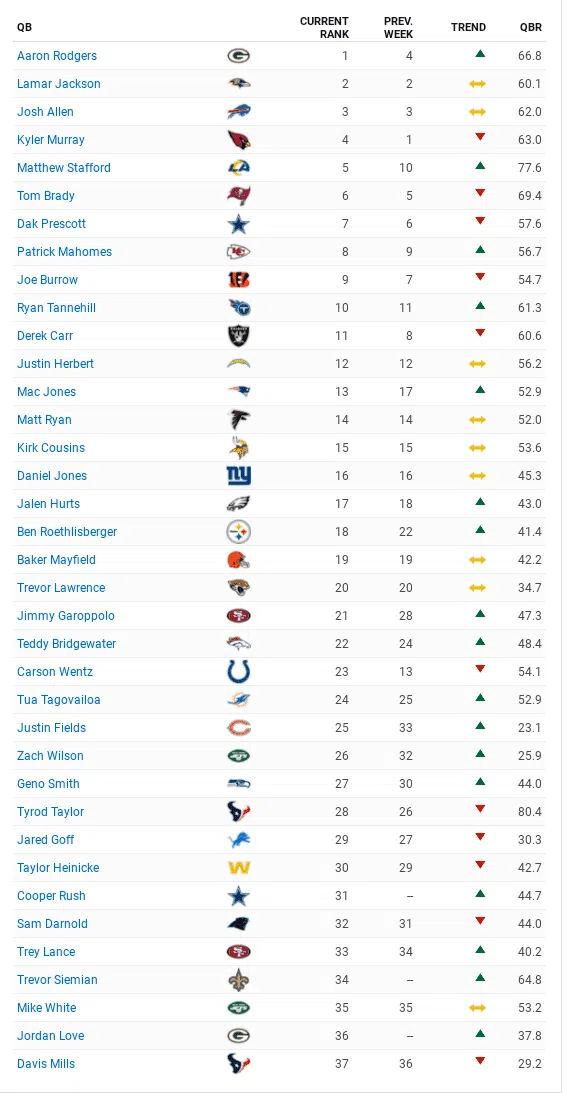 Biggest Week 8 Takeaways

The backups step up and played phenomenally. The backups who stood out and made a statement with their play on the field were Cooper Rush, Mike White, and Trevor Siemian. While these three backups have played exceptional and pulled some of the biggest upsets of the week. Can these three repeat their performance and do it consistently?
San Francisco 49ers quarterback Jimmy Garoppolo made plays with his feet that help extend plays and create big plays down the field. He seemed to play with more confidence than usual. Not to mention, this was a much-needed win for San Fran. As long as the 49ers are in the game, Garoppolo seems the best way to go.
Philadelphia Eagles Jalen Hurts played well against Detroit. The talent level of Detroit is concerning and hard to gauge how well he really played or how bad the Lions played. However, he seems to be missing poise and rhythm in the pocket during plays. He had a 93.7 total QBR, but he barely grazed 100 passing yards with 103. It appears he did the majority of his damage on the ground as he ran for 71 yards.
Los Angeles Chargers quarterback Justin Herbert who got off to a very hot start has slowly cooled off these past few weeks. He seemed to struggle against that New England defense. He'll need to play more consistently to win the division this year.
The number one ranked quarterback is Aaron Rodgers of the Green Bay Packers. He went on the road and beat the undefeated Arizona Cardinals understaffed. He was able to make up for the injuries on the Packers' squad. Although he's received the top spot this week after testing positive for COVID-19, it seems natural that he would drop not being able to play the following week.