Lizzo has quit Twitter, for now.
The singer saw her career skyrocket this past year, being named entertainer of the year, with eight grammy nominations and earning the number one spot on the Billboard charts.
Despite her success and obviously large fanbase, Lizzo says she'd had enough from the internet bullies.
The 'Good As Hell' singer sent out her signing off tweet late Sunday night saying "Yeah I can't do this Twitter s**t no more.. too many trolls. I'll be back when I feel like it."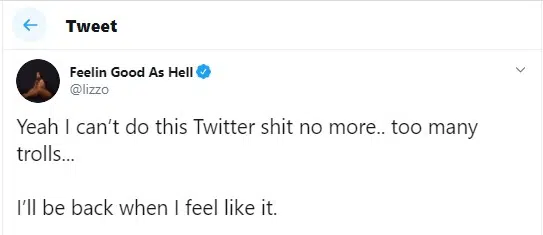 Shortly after sending out her farewell message, Lizzo hopped on instagram real quick to explain herself.
"All social media is not created equal," she said. "I would love to be on Twitter because I could connect with you people who positively support me…not to mention spreading my own positive messages."
She continued, "but now I've gotten to a point where I'm not just dealing with internet bullies; I'm dealing with seeing a lot of negativity on the internet dealing with everyone."
The singer has been the target of 'distasteful' meme content on Twitter lately, especially in highlight of the viral concern of 'WWIII".
One user even wrote "Plan B, Drop Lizzo on Iran."
Another user wrote in response to her farewell post: "Where you going? Burger King?"
Some may find the jokes funny but put yourself in Lizzo's shoes, she's a person too. Can you blame her for having enough?
On the flip side, there were some tweeters that stood by the singer.
One wrote in support, "u dont deserve this shit love u queen"
And another tweeted: "I legit just saw someone making fun of the fact that she might commit suicide Some of the fat jokes are kinda funny but some of y'all need to infact be sent to the past and murdered by all of the dead sereal killers that once lived on this earth."
No word on when Lizzo plans on coming back to social media.
Bonnaroo recently announced Lizzo will be performing, tickets will go on sale this Thursday, Jan. 9.
What do you think? Are you a Lizzo fan?
Let us know in the comments!