When it comes to taking shots at Lil Nas X, Boosie Badazz can't help himself. In yet another homophobic tirade, the Baton Rouge rapper fired off at the "Old Town" emcee again. Despite having ill feelings toward the younger rapper, he took things way too far during his latest rant. Fortunately, Lil Nas X's father wasn't having any of it. Looks like the "Industry Baby's" father shut down Boosie Badazz's homophobic tirade.
       Badazz Boosie's Homophobic Tirade Goes Too Far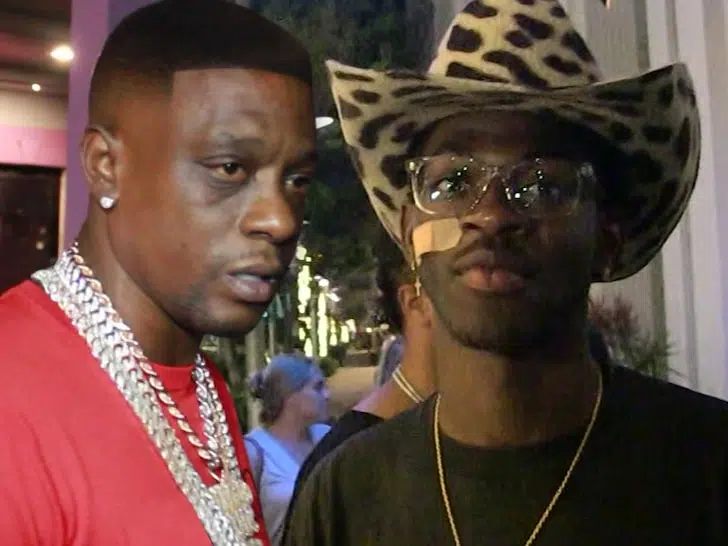 Social media has become all too familiar with the back-and-forth banter between Lil Nas X and Boosie Badazz. At what point does the feuding become too much? Badazz answered that question after taking things too far with his latest homophobic tirade. On October 23rd, the Baton Rouge rapper blatantly told X to commit suicide in a since deleted tweet. There's no reason why this man shouldn't be removed from all his social media accounts. Fortunately, Twitter took down the comment as it violated their policies. Though, the Internet wasn't done with Badazz just yet.
      Lil Nas X's Father Tells The Baton Rouge Rapper to Sit Down
Badazz has made some polarizing comments toward Lil Nas X, but this time, he's gone too far. Arguably, the LGBTQ community has struggled for years for acceptance from society. In worst case scenarios, they've had to overcome daily struggles, such as suicidal thoughts. Fortunately, Lil Nas X doesn't stand for ignorance. He's stood up for the LGBTQ community, stating that hey deserve freedom to act themselves. He definitely ignores the haters, especially Badazz.
Though, Lil Nas X's father has no problem speaking his mind and putting the haters in their place. Following Badazz's homophobic tirade, X's father, Robert Stafford shut down the Louisiana-born rapper. Furthermore, Stafford took to Instagram to call out Badazz for being hypocritical and ignorant.
"How the hell you're a gangsta rapper promoting drugs, gun violence, degrading women and getting high every video talking about you're for the kids man sit your old man looking ass down. The game has past you. We real Bankhead over here. Not like the guy who claims it."
Of course, Badazz shot back a rebuttal, still attacking Stafford's famous son. It'll only be a matter of time before Boosie Badazz gets cancelled by social media.