King Stace Sits Down for Exclusive Interview: Energy
Stacey Ford is no stranger to the spotlight. Hailing from a profoundly musical family full of seasoned veterans in the entertainment industry, the Los Angeles native and rap sensation best known to hip-hop audiences as KING STACE was exposed to all genres of music from birth. Recently, King Stace hosted a listening party and we down with the artists to get the exclusive on King Stace new album, Energy.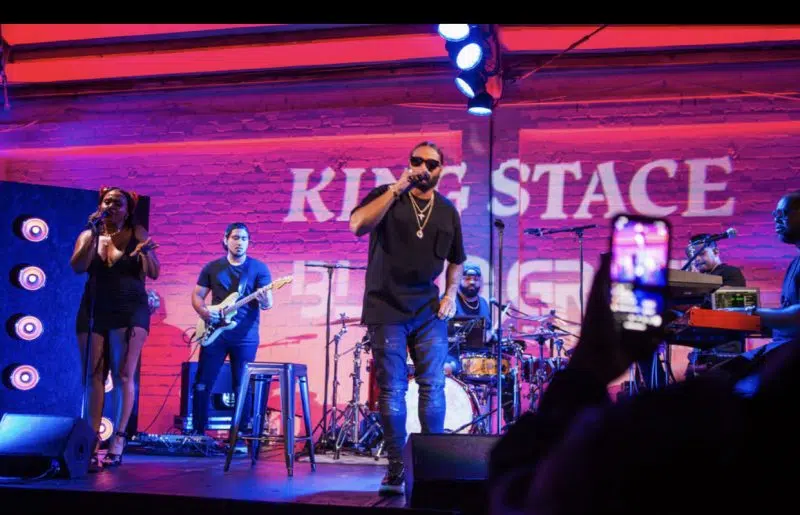 HypeFresh: We are here at King Stace's exclusive album release party. Listening to King Stace's new album, Energy. Man is this party going up, I can feel the energy.
King Stace: Right.
HypeFresh: "Energy." Let's talk about energy. What was your inspiration behind this album?
King Stace: For my album, Energy, I rented the studio out for about two months and we were just in there recording. Just working, just trying to sharpen my craft and get better. While we were recording, I was going through so many different emotions. I mean ups, downs, side to side… front to back… all of that. This project shaped me and strengthened my life. In my life, mentally, during the development of this album – that's how "Energy" came about. It's because there are so many different variables that went into telling this story.
HypeFresh: How did you even keep your energy? You said you rented it out for two months, right? How can you be in the space for two months and still maintain that energy? And still be able to tell your story? How does that go about?
King Stace: Yeah. I'm a workhorse. Like, I am an extreme hustler. That's what it's about. My own entertainment company is Blind Grind Entertainment and what we stand on, is the work that nobody sees. It's about the grind the behind-the-scenes, that grind that doesn't get recognition. Nobody pays attention to that. Everybody celebrates your wins, but nobody sees the lows, and that's what I embrace. That is what develops character. That's what makes you who you are. That hustle, that struggle, where you come from, all of that. I love that. So. I can drown myself in the studio and not feel like I'm working.
HypeFresh: That's beautiful because I don't think a lot of people find something that they'd be willing to like lock themselves away for. It also speaks to those going through something. They'll know that it's going to take some time. Is that the message you're trying to portray through your music?
King Stace: Oh yes. "To whom much is given, much is required." People don't understand, man. "Heavy is the head that wears the crown." So, you can't expect to just get somewhere and not work. It's important. You've got to have that. I think it's important that you teach new artists in this game the importance of working hard. I've also flipped burgers, I've been a dishwasher, I've made sandwiches at subway. I'm telling you that I'm about where the hustle is at. There's no shame in my game. If that's where I'm needed, I am there. I'm going to be at a job, I'm going to have work. And I'm going do it.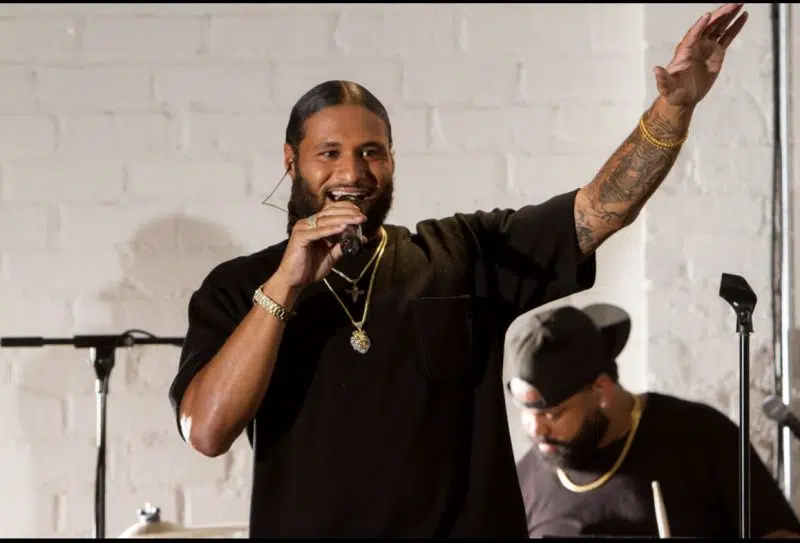 HypeFresh: That's facts. Speaking of work. You've worked in a lot of different fields, not just music. But, you're an entertainer, you have a YouTube channel, you're an actor. How does that feel to have embodied almost every facet of entertainment?
King Stace: When I was a child, I acted. I did a couple of movies, "It Ain't Easy," a movie where I played Mac 10. Back then, I had a chubby frame. I was a fat boy. Then I did Rebound with Martin Lawrence. But it got to a point where I was just doing movies, and booking commercials, and I couldn't go to school. I had to choose between homeschooling and acting. But I wanted to play football. I had aspirations of going to the NFL. I wanted to do everything. But after I graduated, I came back to Los Angeles and just decided to go ahead and give this music thing a full go.
HypeFresh: You were performing in college as well?
King Stace: Yes, I opened up for Lil Boosie. Actually, that was my first show. It was crazy. I was nervous; it was about 5,000 people out there. It was a pretty big show in a gymnasium. Everybody was there for Boosie, so being another artist on stage, the crowd was like, "Ah we don't really want him." You know? But after, they were rocking with me. It built up my confidence. It made me feel good and I kept going from there.
HypeFresh: In the era of Black lives matter? What does being black mean to you?
King Stace: That's a heavy question. In light of everything going on, I have never felt prouder to have attended an HBCU. I love my Black people, I love my Black women, I love my Black culture. You know, that's what I'm about. So going to Tuskegee, it definitely was a trip, it was a change of scenery. I'm from LA, so going to Tuskegee, it's the only thing in Tuskegee. It was definitely a culture shock. But it takes you on a trip and makes you appreciate where you come from. You definitely learn a lot and it definitely wakes you up to all this stuff going on in the world right now and this systematic racism. But what I took from Tuskegee most was the struggle. Understanding how to get through college and make it, make sense.
HypeFresh: 2021 is coming up faster than we expected. What are your goals musically for the the next few years?
King Stace: Musically, I want to do a lot. Before the year is up, I want to drop another project. So, I'm working with another producer right now. He's super dope and we got good chemistry going on right now. We making some good music right now. I'm excited about that and just building off this event, you know, dropping another project before the end of this year. I definitely got two projects in the work right now. I can't speak on it, but they will be released soon. But, 2021, I'm just looking forward to being blessed. You know, I got lot of favor on my life right now. God is opening doors that I couldn't even see. You know what I'm saying? I don't know what to expect, but I want to grow as an artist. That's all. Growth and prosperity and blessings.
HypeFresh: Short and simple. Growth! Well we are going to wrap this up, but before we go, tell us how we can find information on "Everything King Stace?"
King Stace: Yes. Instagram is @kingstace_, twitter is @king_stace, Facebook and Snachat is simply @kingstace. My music is available everywhere, on all of the various digital platforms. Whatever your preference is. Just search me, you're going to find me.
HypeFresh: I want to thank you so much for your time and for sitting down with us. We look forward to hearing your new album soon!