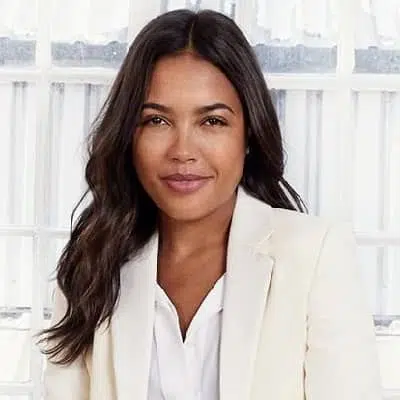 Good American CEO, Emma Grede is the newest face on Shark Tank. Not only is she a new face, she holds the title of being the first Black panelist on the show. The bonafide business woman continues to shred barriers for women of color.
Shark Tank is a reality show where aspiring entrepreneurs compete to secure million dollar business deals.
Who is Emma Grede?
Emma Grede, is a British national from London born on September 23, 1982 making her a Lucky Libra. The Libra balancing scale allows equilibrium when juggling two or more endeavors. The powerhouse's balancing act of business skill and fashion ethic is impeccable.
Attending the London College of Fashion in the late 90s early 2000, Grede took style and business strategy to INCA Productions. INCA Productions is a leading fashion show and event producer in Europe. According to Women for Women International, Icon noticed the budding entrepreneur's tenacity and gave her a platform to grow.
Starting as a producer for the company, Emma's rapport quickly helped her gain power as a young pioneer of business in fashion.
Working with lead designing talents like Christopher Kane, Alexander McQueen, Vivienne Westwood and Zac Posen in the past proves Grede to be a seasoned veteran in her chosen craft.
Surely, in 2008, Grede's hard work landed her a deal as the managing director of ITB. In 2010, the company named her CEO.
Good American/SKIMS
Mrs. Grede makes being a Black woman in business look like a piece of pie. Whereas she is defying odds, she is also all about the betterment of fellow women.
She is the CEO and founder of Good American/SKIMS, a premium clothing label that promotes body positivity. Grede co-founded the empire with Khloe Kardashian.
Shark Tank
Emma Grede believes in the power of hustle. Because of Grede's persistent grind and hustle, she became the first African American female investor on the show. According to CNBC, Emma told ABC News that she looks for two things in an entrepreneur—hustle and passion.
Though Grede's presence on the show is symbolic for Black culture in business, she is not necessarily looking for a story that identifies with hers.
As a member of Women for Women International's Global Board of Directors, Grede  to focus on supporting women, especially women of color. She adds that for the Black community, starting a business with low funds is the norm.
She adds that becoming a shark is a dream come true.