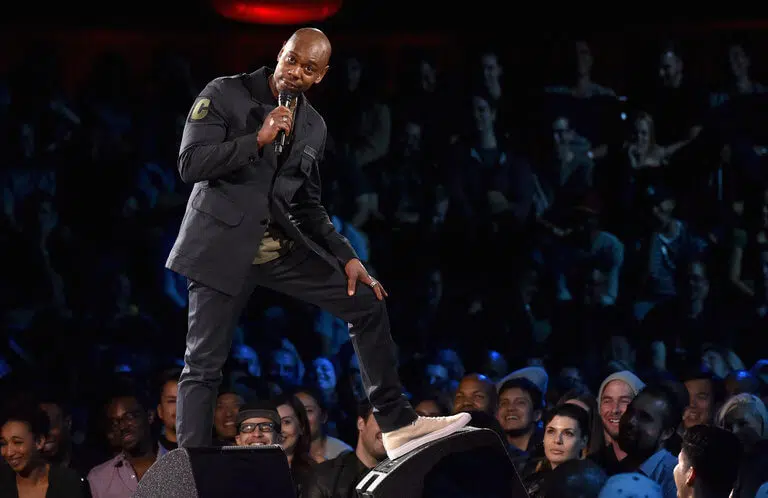 Following an extensive hiatus from stand-up shows, comedy veteran Dave Chappelle has returned with his highly-anticipated Netflix original special. For anyone familiar with Chappelle's work, it comes as no surprise that the segment is causing quite the controversy.
Aside from the other criticisms the special is acquiring, Chappelle's comments about fellow Comedy Central stars Keegan-Michael Key and Jordan Peele has caused quite the storm. When recalling when a media publication questioned him about attending the Oscars in face of the #OscarsSoWhite boycott, the comedian exclaimed "Boycott? Nigga, I haven't been working in ten years. … I had to watch Key & Peele do my show every night."
Twitter users – an overwhelming amount of Chappelle's Show fans (though some supported the Key & Peele duo – quickly took to the social media outlet to express their opinions on Chappelle's remarks.
I'm just going to assume that you're young….Without Dave Chappelle there would be no Key & Peele

— ImpromptuErykahBadu (@CloverBites) March 22, 2017
Dave chappelle show is better then anything key&peele ever did https://t.co/D45ow4ZTIj

— lex 💙❤️ (@lex_barbz_) March 22, 2017
If you think key&peele funnier than Dave Chappelle unfollow me

— ftw (@blckr0b) March 22, 2017
Y'all crazy Dave Chappelle is funnier than Kevin Hart & Key & Peele combined.

— shellsssss. (@naturallyshells) March 22, 2017
So, let's settle the verdict now. Is Key & Peele really a knock-off of Chappelle's Show? And which show is better?
Although Chappelle's Show has reached an untouchable status as a cult favorite over the years, its follow-up Key & Peele is actually more "successful" according to the numbers. While Chappelle lasted for three seasons (really two if you don't count its messy last season where he wasn't even there to host), Key & Peele lasted five. As Chappelle was missing out on Emmy nods, Key & Peele scored two wins. Surprisingly, Key & Peele even edged out Chappelle's Show in ratings. Nonetheless, the subject matter of both series can greatly be attributed to its successes.
Chappelle's Show is notorious for its brutally honest depictions of modern race relations – from displaying a blind white supremacist who is unaware that he is black to a hypothetical racial draft or the raw "Ask a Black Dude" segments featuring Paul Mooney, the series attacked race in a manner that was not in the least bit appeasing to white, mainstream audiences. The series – nonetheless – has millions of white fans but the racial commentary seemingly went over their heads as the show progressed (which is one of the decisions that ultimately led to Chappelle leaving the show in the mid-series).
On the other hand, Key & Peele (among other things) does cover racial matters but in a much more "pleasant" way. The stars of the show – who are both biracial – often employ their "I'm black but not black black" shtick as a way of showing that they are not like "regular black people" while making jokes at the expense of the rest of the community.
It would be irresponsible to say that Dave Chappelle (whose mother is actually half-white) never made particularly offensive or problematic jokes against members of his race; but Dave – unlike Key & Peele – who is actually part of "the culture" (per se) did not package his racial commentary to appeal to a mainstream audience.
Key & Peele is definitely funny in its own right and deserves all of the success it has achieved but Comedy Central's shameless rehash of a tamer Chappelle's Show would make me upset too if in Dave's shoes.