Adam Sandler & Drew Barrymore Spotted in Philly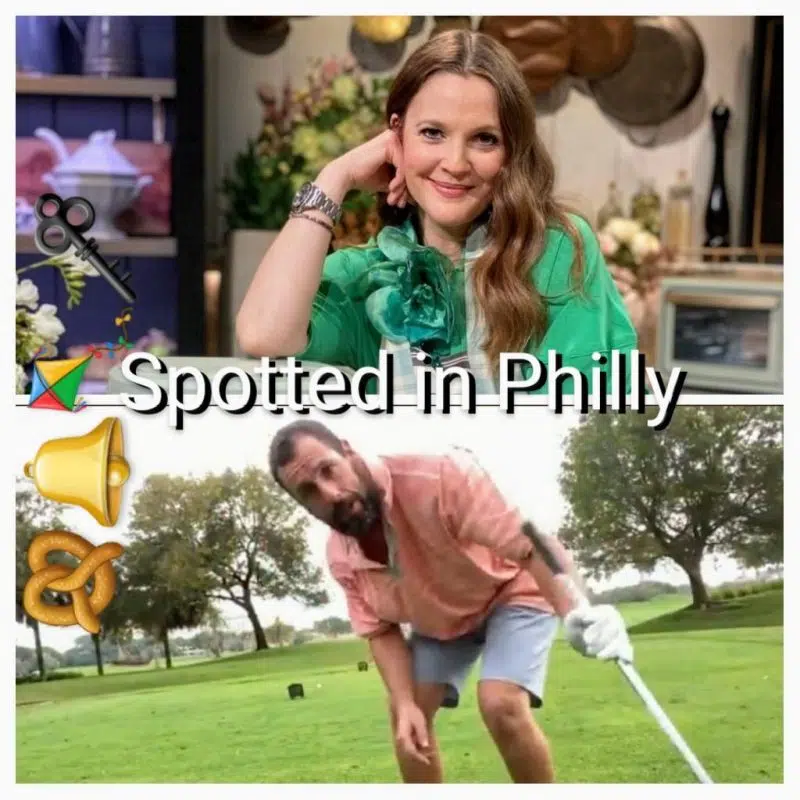 Photos via Twitter & Instagram Adam Sandler and Drew Barrymore spotted in Philly
Adam Sandler and Drew Barrymore have been spotted in Philly.  Philadelphians everywhere are losing their minds stanning over the two stars in their hometown.
Filming "Hustle" in Philadelphia
Why is Adam Sandler in Philly? Apparently, Sandler is working on a new film, entitled "Hustle". The film will take place in Philly. The movie centers around a character, Standley Beren who struggles as a NBA Scout. The character attempts to recruit new talent from untapped spots.
Naturally, Sandler held tryouts for extras in the 76ers facility. Specifically, the actor was looking to find extras who could ball for the sports themed film. Upon completion of the film, Hustle will debut via Netflix.
Adam Sandler Spotted Around Philly
Philadelphians everywhere have been estatically filming Sandler. In fact, fans were eager to spot him filming around the city. It's been wild seeing where they might spot him next.
First, the actor was spotted in South Philly. There, Sandler spent time on a basketball court, because the movie is about basketball.
Additionally, Sandler has been spotted shooting scenes on Market Street Finally, Adam Sandler appeared at Old City dining at Zahav, an Israeli restaurant.
As a result of their excitement, Philadelphians would not leave the actor alone. Yet, Sandler enjoyed the outpouring of love from fans. On the contrary, he has been friendly and remained humbled.
The Drew Barrymore Show
Furthermore, actress, fans spotted Barrymore in South Philly. Although, it was not to work on a film alongside previous co-star Adam Sandler. Instead, Drew Barrymore was filming content for her "The Drew Barrymore Show."
While in Philly, she showcased the popular food spot, Geno's Cheesteaks. Also, locals saw Barrymore in Love Park. There, they filmed a segment for the star's show. Allegedly, The Drew Barrymore show consistently films in different locations highlighting the local attractions.
#DrewsNews pitstop in Philadelphia with @DrewBarrymore! Which city should we visit next? So excited for all the fun we're gonna have in season two of @DrewBarrymoreTV (starts 9/13)! pic.twitter.com/ixKoaRZITw

— Ross Mathews (@helloross) August 30, 2021