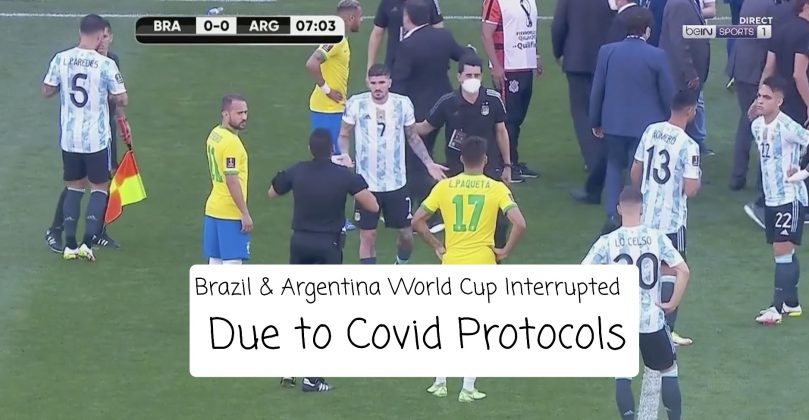 The World Cup between Brazil-Argentina was set to kick off in Sao Paulo. However, Brazilian health authorities interupted the game just minutes before kickoff. In the end, the game was suspended because they didn't follow health regulations. According to health authorities, Argentina violated Covid protocols occured when four Agentinan players failed to follow proper quarantine rules prior to the game.
Apparantly, the players were supposed to quarantine for 14 days prior to the game after visiting U.K. Yet, they claimed no one stopped them from joining the team. Ultimately, the four Argentine players at fault are  Emiliano Buendia and Emiliano Martinez of Aston Villa, and Giovani Lo Celso and Cristian Romero of Tottenham Hotspur.  Currently, Brazil leads over Argentina.
2. Nigeria Beat Liberia in Qualifying Round of World Cup
During qualifiers, Nigeria beat Liberia with a final score of 2-0. Also, prominent striker, Kelechi Iheanacho scored twice via a tee up from Alex Iwobi securing the win. As a result, they qualified for the FIFA  2022 World Cup at Teslim Balogun Stadium, Lagos State.
ICYMI: Check out the highlights of Nigeria's 2-0 win over Liberia in Lagos earlier today.

The Eagles opened their group stage campaign with a straight-forward win.

via: @FIFAWorldCup | #WorldCup pic.twitter.com/NNFexsezEA

— Fisayo Dairo (@FisayoDairo) September 3, 2021
3. Bevis Mugabi beats Christiano Ronaldo in Jump height record
Bevis Mugabi beats Ronaldo's jump height record and gains internet fame. "I guess it's something I can show my kids further down the line," but "To be honest though, I had no idea how high I'd jumped until the next day or two, when my Twitter and Instagram started going crazy. That was how I found out that I'd broken Ronaldo's record. And it was a nice feeling." See his high jump below in the video below.
<
p class="p-large ff-text-grey-slate">Now as he joins his team, he reflects on his talent. "I've always had a high jump but it had never been a big focus for anyone until that moment. Now when I go up for set pieces, I think other defenders definitely keep a closer eye on me!"