C contains pivotal moments of creative collision that mold history's trajectory. One such intersection is the remarkable fusion of hip-hop and sneakers. People all over the world love and respect it.
This dynamic combination of rhythm and style transcended mere music and fashion. It created a phenomenon that captured hearts, sparked revolutions, and redefined self-expression.
Imagine the pulsating streets of the Bronx in the 1970s. The Bronx was the urban landscape that birthed two distinct yet linked revolutions. On one corner, the soulful beats of hip-hop echoed through neighborhoods.
It offered a resonant voice to those whose stories had long been unheard. On another corner, sneakers emerged as footwear and a symbol of identity. It was emerging as an emblem of urban culture that spoke of aspirations and dreams.
Little did the world know that these movements would forge a profound connection. Later this connection altered the cultural landscape forever. Hip-hop artists rhymed tales of struggle, defiance, and resilience at that time.
They laid the foundation for a revolution that extended beyond music. Sneakers transformed from functional footwear to artistic canvases. It serves as a conduit for personal narratives and societal commentary.
This article delves deep into the captivating history of hip-hop and sneakers. It explores their origins and the impact of their harmonious convergence.
Let's look at the history of sneaker culture in hip-hop, from its beginning to a global phenomenon.
As we unravel the threads that connect rhythm and fashion. We invite you to witness how this fusion shaped generations. It continues to resonate with us all.
Origins of a Movement: The Birth of Hip-Hop and Sneaker Culture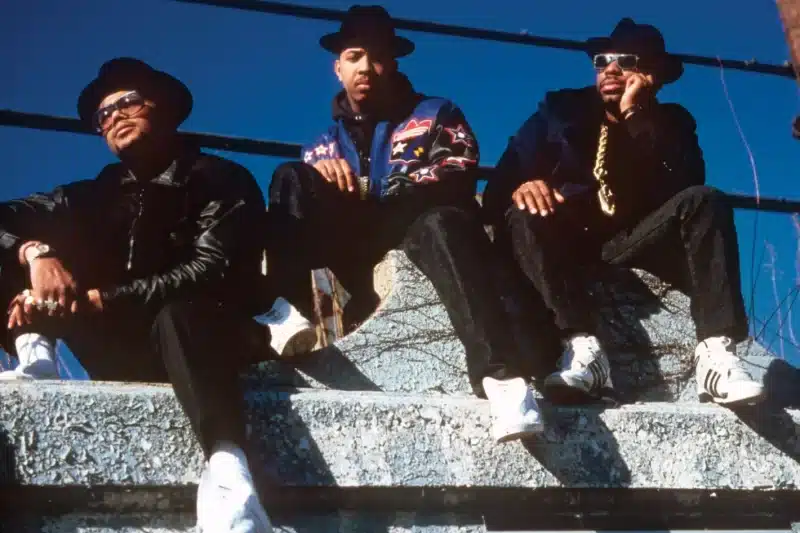 The Bronx in the 1970s saw two interconnected movements: hip-hop and sneaker culture. Hip-hop gave voice to marginalized communities through rhythm and verse. Meanwhile, sneakers became symbols of urban identity and aspiration.
Both movements found common ground in the streets. Hip-hop artists integrated sneakers into their artistic expression. This convergence set the stage for a partnership redefining music, fashion, and self-expression.
The fusion of hip-hop and sneakers ignited a cultural revolution. This revolution continues to resonate across the globe, shaping trends and inspiring generations
The Sneaker Revolution: From Utility to Expression
Sneakers, once practical footwear, evolved into artistic vehicles. They also became canvases for personal expression, reflecting individuality and style. The fusion of hip-hop and sneaker culture. Propelled this evolution.
The streets' vibrant energy merged with the beats of hip-hop. Transforming sneakers into tangible representations of urban narratives. This transition marked a turning point in fashion.
Sneakers shifted from functional necessity to bold statements of identity and creativity. The sneaker revolution was a testament to the power of collaboration between genres. It changed the way we perceive and wear footwear.
Hip-Hop's Rise: Uniting Communities and Empowering Voices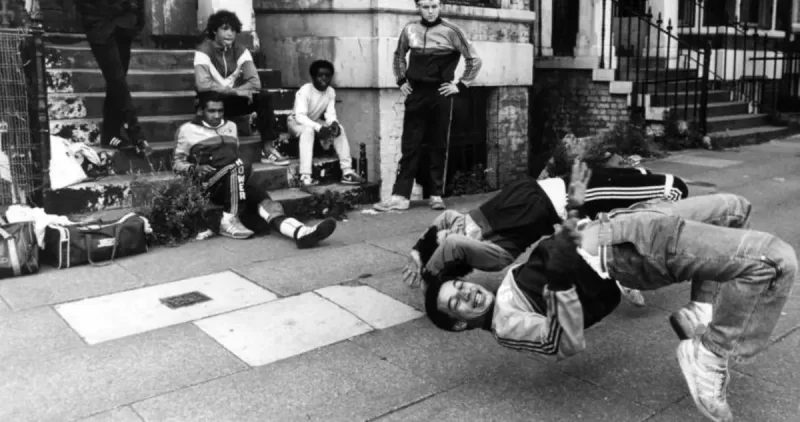 Hip-hop's ascent went beyond music—it united diverse communities and amplified marginalized voices. Rooted in storytelling, it joined experiences that resonated globally. Hip-hop gained popularity. Sneaker culture also gained popularity. Both reflect a shared ethos of self-expression.
Sneakers became a visual medium through which artists conveyed their identities and aspirations. This symbiotic relationship fostered a sense of belonging and empowerment, transcending borders. Hip-hop and sneakers sparked a movement. The movement empowered the underrepresented and celebrated authenticity. It reminded us that culture is a powerful vehicle for change.
The Birth of Sneakerhead Culture: From Enthusiasts to Collectors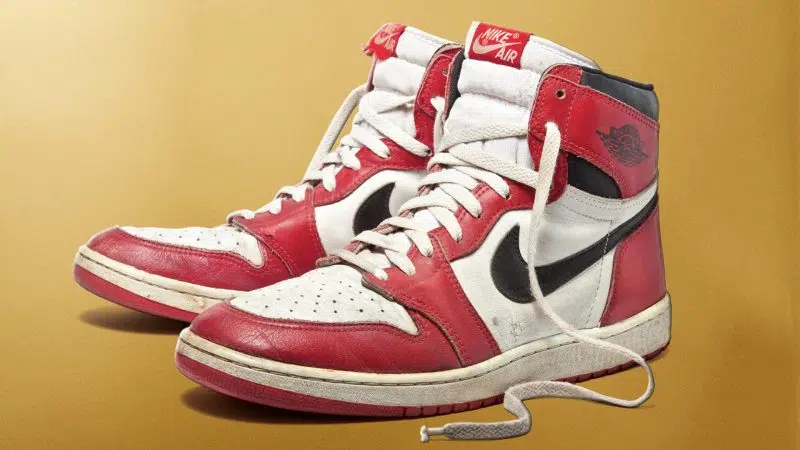 From humble beginnings, sneakerhead culture emerged. What started as a passionate affinity for sneakers transformed into a global phenomenon. Enthusiasts very soon evolved into collectors. The desire to preserve history and embrace individuality drives them.
The fusion with hip-hop elevated sneakerheads, making them tastemakers and trendsetters. Sneaker releases became events, uniting communities worldwide.
Hip-hop and sneaker culture have made old sneakers valuable objects. Their lasting influence is undeniable.
Art and music inspire movements. Hobbies can become legacies that transcend generations.
Creative Synergy: Collaborations that Redefined Sneaker Culture
The fusion of hip-hop and sneaker culture sparked groundbreaking collaborations transcending traditional boundaries. Fashion followers often look up to hip-hop artists as style icons. They worked with shoe companies to make art that combined music and fashion.
These collaborations weren't only shoes, cultural statements, and storytelling through design. Partnerships between Run-D.M.C and Adidas have revolutionized sneakers. Many others have followed suit since then.
They believed in the importance of creativity, purity, and individuality. They expressed themselves. They sparked cultural conversations through their choice of footwear.
Beyond Fashion: Hip-Hop's Impact on Language and Art
The influence of hip-hop extends far beyond fashion, infiltrating language and art. Hip Hop artists introduced slang and phrases that changed linguistic expression globally
Graffiti is a symbol of hip-hop culture that changed urban landscapes into museums. The way sneakers and hip-hop influenced each other made the impact of both even stronger.
This cultural force changed the way we talk to each other, create things, and connect. Combining music, lyrics, and art made hip-hop a powerful cultural force.
Global Reach: The Universality of Sneaker Culture
Sneaker culture originated in the Bronx streets and has since spread across continents. Hip-hop's global influence acted as a way of spreading not only music but also fashion.
Sneaker enthusiasts emerged worldwide; they shared a passion for footwear that broke language barriers. From Tokyo to New York, Paris to Johannesburg, sneakerheads spoke this language
Hip-hop and sneakers used to be popular only in urban America, but they became popular worldwide. This shows that cultural trends can be prevalent in many places and enjoyed by people worldwide.
Empowerment through Style: Breaking Gender norms0
The partnership of hip-hop and sneakers played a pivotal role in challenging gender norms. Female artists embraced sneakers to assert their identity, dismantling traditional beliefs of womanhood.
Missy Elliott and Lil' Kim wore sneakers. They broke gender boundaries in fashion.
When hip-hop and sneakers came together, they broke down people's ideas about fashion leading to a more supportive fashion world.
The Legacy Lives On: Hip-Hop and Sneakers Today
The enduring impact of hip-hop and sneakers remains palpable in contemporary culture. Sneaker releases still create waves, like album drops. Artists are infusing their style into collaborations, bridging music and fashion.
Sneakerhead communities are popular all over the world. People in these communities love shoes and appreciate the art of shoe design. Hip-hop music and sneaker culture inspire each other.
This lasting legacy shows how the power of creative mixing is constantly growing. It reminds us that art, music, and fashion are powerful forces constantly changing our world.
A Resounding Influence: The Everlasting Bond of Hip-Hop and Sneakers
The journey of Hip-Hop and sneakers remains the symbol of cultural fusion. This enduring bond transcends time, echoing through generations and influencing pop culture.
From the streets of the Bronx to global stages, Hip- Hop has shaped the way we express ourselves
Their partnership is a reminder that creativity knows no bounds. It shows how art forms can come together to spark change. Collaborating rhythm and fashion creates empowering art. It also creates individual and unified art.
The fusion of hip-hop and sneakers is more than a trend; it's a legacy that stands the test of time.