Talk shows are the root of conversations and open opinions. Topics from social media, news outlets, and daily issues reach the main stage. Historically talk shows began in the 1950s, with The Tonight Show being the originator of the format.
Although the talk show era started with only white hosts, the world changed, making room for a new narrative.
Oprah Winfrey is nationally known as the Godmother of Talk television. Her incredible and memorable show, The Oprah Winfrey Show, aired in 1986, setting a motion for Black representation in the market that was underrepresented.
Arsenio Hall made another incredible stride by becoming TV's first Black-syndicated late-night talk show host with his show The Arsenio Hall.
The representation of Black culture in daytime television changed overnight, allowing new black faces to be heard. Check out these Black daytime talk shows continuing to change the narrative.
Sherri Shepard "Sherri"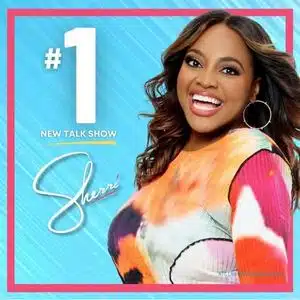 Sherri Shepard is the latest Black woman to change the narrative of daytime television. Replacing Wendy Williams, Sherri premiered on the Fox network on Sept. 12. previously on The View, Sherri earned a dedicated and massive following for her bubbly personality.
Sherri's show has already won the hearts of millions, with guests like Tamera Mowry-Housley, Tommy Davidson, Tyra Banks, and more. With attention to positivity and gratitude, Sherri's platform doesn't involve gossip or opposing viewpoints. Her honest rebellion is changing the narrative of daytime television. Sherri airs weekdays at 10 am on Fox.
Tamron Hall "Tamron Hall Show"
Tamron Hall is a media gem in black culture. Since 2007, Tamron has graced our screens, dominating every inch of the media realm. Initially starting in the news at MSNBC and NBC, she quickly became the face and voice for Chicago news. Becoming a household name, Tamron premiered her self-titled nationally syndicated show in 2019 on ABC.
Receiving worldwide praise and winning a Daytime Emmy, the Tamron Hall Show, touches viewers in more ways than one. Everything from deep topics to community outreach, one-kind interviews, and her inviting spirit show how Tamron Hall changes the narrative. Watch the Tamron Hall show on weekdays at 1 pm on WLS ABC 7.
Jennifer Hudson "The Jennifer Hudson Show"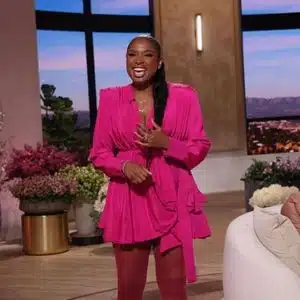 The talented Jennifer Hudson is a new face changing the narrative of daytime television talk shows. Jennifer is a legend in Hollywood who won the hearts of millions with her captivating voice, outstanding acting abilities, and, most recently, achieved EGOT status.
With such a devoted fanbase, Jennifer took her influence to daytime television. The Jennifer Hudson Show premiered September 12th on WFLD/FOX, letting the world see another black woman in the talk show lane.
Jennifer, loved amongst celebrities and regular people, sets a motivating, loving, and open tone with her show. Jennifer Hudson is changing the narrative by giving everyone a safe place on daytime television. The Jennifer Hudson Show airs weekdays at 11 am on Fox.
Symone Sanders "Symone"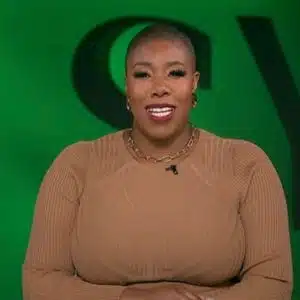 Symone Sanders is a force to be reckoned with in the media world. One of this generation's most respected black political strategists, she uses her influence to educate and inform. With an impressive and admirable career, Symone dynamically delivers political information to the masses and the black culture.
2016 Symone became the youngest presidential press secretary on record during the Bernie Sanders presidential campaign. She also served as senior advisor for President Joe Biden in his 2020 campaign, ultimately leading to his win.
Her fiery and passionate delivery lead to a position with CNN as a political commentator, further adding representation where it's most needed. Her groundbreaking show Symone premiered May 7th on the MSNBC network.
Tackling issues around politics, culture, and race, Symone Sanders isn't afraid of changing the narrative. Symone airs at 3 pm Saturdays and Sundays on MSNBC.
As the battle for black representation grows, we look to these excellent platforms to change the narrative.