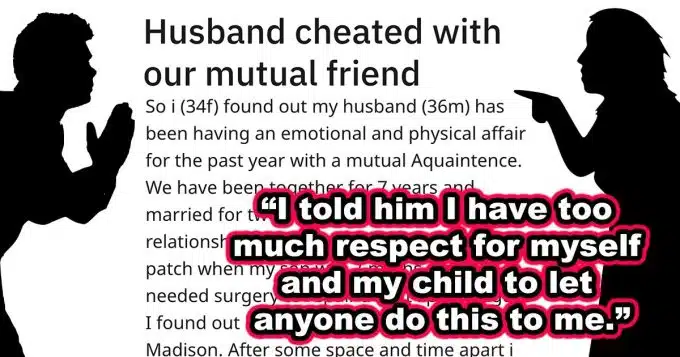 If you have ever been put in the horrible position where you suspect that your "loving" partner is cheating in you, then you know there is no other gut-wrenching feeling like it. Maybe you see their phone lighting up with messages late at night. Or you get a friend saying they say your partner out with someone else at a random time of the day that you didn't know about. Or you simply see someone liking too many of their social media posts. That feeling of your heart dropping into your stomach is instant. It makes you want to curl up into a ball and hide away. But that is not what you do! 
One strong wife epically shares on Reddit how she discovered and left her unfaithful husband. He had already pulled some shady things on suspicious apps that had them on the rocks, but he agreed to delete them and attend therapy. The couple have been together over 7 years and had a 1-year-old baby boy. So the wife was hoping everything would work out. Then one day she saw on their security camera a woman trying to come to their house while she was out of town and her husband was at home. He said it was just a traveling sales person, but she could see through his BS. 
So she decided to go into FBI-mode and do some investigating herself. She went onto Instagram and deciphered whatever his login was, after several tries, she got in! With that, she started talking to their mutual friend she suspected he was cheating on her with. And with that, the other woman spilled all the tea and she knew. 
She immediately called her friends over to pack up all of his belongings and kicked him out. Though he cried and apologized to her, she said she had too much respect for herself and her child, so they were done. EPIC!
Read the entire story below!