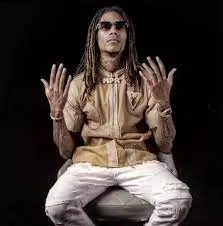 MPR Riche Rich is on the radar, hot, heavy— and HypeFresh wanted the total scoop. Right before the New Year, we had the honor of chatting with MPR Riche Rich about his delicious rap endeavors. The Detroit native keeps good vibes high as he speaks passionately about conquering goals and making sh*t happen. With 1.4 millions streams on his latest single, Live In The Moment, the hip-hop artist and entrepreneur continues to achieve community-driven success.
Here's what MPR had to say.
HypeFresh Highlights MPR Riche Rich
Who is MPR Riche Rich?
MPR Riche Rich: Who is MPR Riche Rich? He is an artist, an entrepreneur, family man, businessman. I am a veteran, a lot of different things.
Can you tell us a little about your newest single?
MPR: Sure. The song is out already, we are releasing the video portion to it on January 1st. It's highly anticipated. The project derived during the pandemic, it's a celebration type of song, mainly because we've all been in quarantine and on lockdown, a lot of different people have been experiencing death this last year or so. I want to pull people out of that mode and bring them to an uplifting area in life. We are all still here. We made it through what a lot of people didn't. So, it's just about living in the moment. Giving people that inspiration to keep pushing.
What inspired this record?
MPR: My grandparents, as well as me feeling comfortable with saying that I made it. I'm not necessarily where I want to be, but understanding financial freedom in the whole sense of being able to do the things I would like to do. Enjoy my family.
MPR: One of the latest is with DMX. We were working on his movie right before he passed. That was pretty inspirational because I grew up listening to DMX. I come from that type if era. To be able to work with somebody in that nature and to hear his backstory, to get personal and deeper, it was different. He was very accepting of me and family, everything that I have going on—he really took a liking to us. He talked to us about a lot of good things, we lost him a few weeks after. That's crazy.
More On MPRRR
What are your current musical influences?
MPR: I'm really inspired by people like Young Dolph, Nipsey Hussle, Jay-Z, Master-P. When I mention them, I mean the art of the hustle.
We hear that you are a family man, can you tell us more about that?
MPR: My family is the most important thing to me at the end of the day. Everybody has a reason as to why they do things, and that's one of my main reasons. It all comes back down to my family. If I were just doing it for myself, I would've probably quit a long time ago, I've accomplished a lot, but I keep it going for them.
Where can the people find you?
MPR: You can find me on all platforms at MPR Riche Rich.
What is your IG handle?
MPR: @mpr_riche_rich, also on all other social media platforms.