Meg Thee Stallion Owns a Popeyes
Meg Thee Stallion recently joined the new wave of artists having collaborations with fast-food chains. This comes after musicians such as Lil Nas X, Eminem, BTS, and more have also had their fair share of this type of collab.
The New Orleans food chain Popeyes recently announced its partnership with Meg Thee Stallion. Winner of four Grammys, the Houston rapper is now a franchise owner. Also, she simultaneously launched a sauce and merchandise inspired by the food chain.
Starting October 20, this collab will be available worldwide. Famously known as the chicken sandwich will be seasoned with the Hottie Sauce. This will be the first time Popeyes launched a new version or variation of the iconic meal.
Popeyes x Meg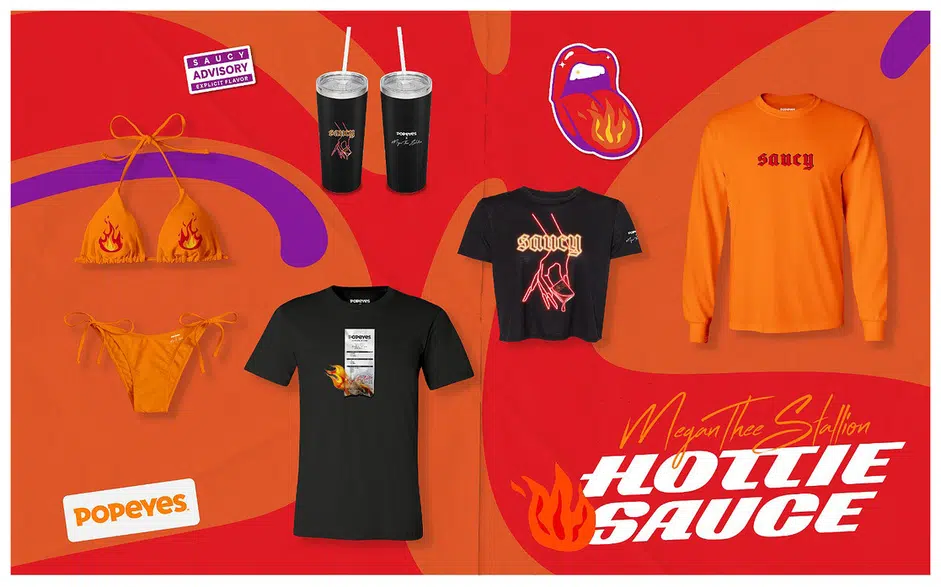 Moreover, the first collection Thee Heat will be available for purchase on October 19 at noon at TheeHottieSauce.com in celebration of the Hottie Sauce in restaurants. Furthermore, the "Hot Girl Summer" rapper boasts about becoming a franchise owner. After the company approved Megan to be an owner of a Popeyes restaurant in the United States. As a part of this extensive collab, Popeyes and Megan will be making a six-figure donation to the non-profit organization Random Acts of Kindness. For one thing, its mission is to promote empathy and compassion to those in need in the Houston community.
The Sauce
Made with honey, cider vinegar, and Aleppo pepper. Thee Stallion's Hottie Sauce is a perfect combination of spicy, which compliments the authentic recipe of Louisiana chicken.
"I am grateful for Popeyes' commitment to empowering African American women, and I am looking forward to the opening of my Popeyes restaurant," said the rapper.
Additionally, she mentioned that working together with Popeyes is an accomplishment in her career as she evolves as a businesswoman. Besides being a fan of the restaurant, Meg mentions that she's excited to help and create a sauce as part of the partnership.