Houston, Texas is a melting pot of tenacious talent ravishing the streets, spilling ill rhymes over an eager producer's beats. Brand new flavor, whether hip-hop or rhythm and blues is constantly mining it way to radio stations, taking off overnight. The L.O.U.D Muzik label is putting on for new talent in the city through a radio press junket.
To be apart of a cutthroat industry, there is a toughness an artist must possess to conquer each level to the top. Surely, with every level there is a new devil, so above all, sound mental health is a priority. When one feels good about himself, one reflects, and receives good.
To take a quick glimpse at the vast history of the music culture of Houston, we know that it is home to an overflow of hit makers. Hit makers from way back then until now and beyond.
Houston's Greatest
Let's time travel back to the 90s when shirts were much larger and pants fit far too big. Hardcore lyrics spit by the court side basketball court rappers cut from cloths of lyrical inclination. For example, Ghetto Boys. In 1990 their song, "Scarface" put Houston on the map, influencing other artists to adopt to the gangster rap genre according to The Culture Trip.
Fast forward to the late 90s, Destiny's Child proves hip-hop can have some R&B swag. Top charting songs like "Bills Bills Bills" birthed a new sound out of Houston paving way for hip-hop geniuses like Meg The Stallion and Travis $cott.
New People, New Music, New Labels
Speaking of new labels, here is a hot new label, a concrete rose right out of H-town. L.O.U.D an acronym for Live Out Ur Dreams and L.O.U.D. Muzik is the No. 1 independent label in Houston. To celebrate hungry artists, Derrick McKinney comprised a live radio press junket for emerging talent to come seek chances of becoming the next star out of The Lone Star state.
Various vendors set up shop to interview artists of various assortments of individuality and style. One of which, Chris Bivins producer of the Black Entertainment Network, BET.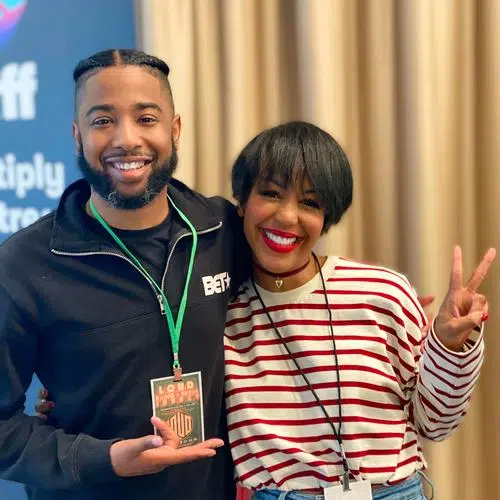 Mr. Bivins made time in his busy schedule to answer a few questions for HypeFresh.
HypeFresh's Interview With Chris Bivins
Who is Chris Bivins?
Chris Bivins: Yikes! Okay, we starting off with all that, alright, um…. Chris Bivins is an entertainer, he's a missionary and visionary.
2. As a producer of BET, what do you expect to take away from the L.O.U.D press junket?
CB: You know, um, so I'm gonna put this out here, I'm not under official BET capacity. Um, but being that I'm a producer there I'm often — and I'm in the access department so I do like commercials and vignettes. I'm always looking for people that we can incorporate into the things that we are doing. So, coming h———————-ere where there is emerging talent, people that are really trying to get their names out there, I want to be hip to that. Cuz, I think one thing, especially, whatever company you're working for that's apart of the entertainment industry, you want to know what's next. So, being in the past doesn't help anybody. Knowing what's next, what's hot that keeps us current, it keeps us in the community. So, that's what I'm really here for. And then, I'm here in an official capacity for a platform called Riff. Which is a new platform that's a mix between Zoom and if Spotify had a baby.
3. What advice would you give aspiring artists seeking to break into the industry?
CB:That is a common question, but for me, not be cliche, you just really have to keep going. I know that sounds so cliche, but truly it is a marathon. It's not a sprint. It's gonna get hard, it's not gonna be easy. You have to be creative as—can I curse? I don't know if I can curse or not on here. No cursing? I don't know y'alls platform like that. You gotta be creative as f*ck. Everybody and they mama can do what you do. You know? It's important that you figure out a strategic way while you're being consistent to get yourself seen, so that's my recommendation. I wasn't expecting this! I'm usually on the other side, so this is cool!