Kourtney Kardashian and Travis Barker's Magical Disney-Infused Baby Shower
In a dazzling display of Hollywood glamour meets Disney magic, Kourtney Kardashian and Travis Barker hosted a truly enchanting baby shower to celebrate the impending arrival of their baby boy. The star-studded event, orchestrated by renowned celebrity event planner Mindy Weiss, left everyone spellbound.
The theme of the day was pure Disney magic, and the spotlight was on the legendary "It's a Small World" ride. From the moment you stepped through those doors, it was like stepping into a Disney dreamland. Mickey Mouse balloons greeted you at every turn, and the scent of freshly baked pretzels was simply mouthwatering. And how about that barbershop quartet serenading the guests? It was like a scene right out of a Disney movie, setting the mood just right.
Now, Kourtney's sisters, Kim and Khloé Kardashian, couldn't resist sharing the magic on social media. They showed off "Baby Barker" lattes, each one carefully crafted with love. And let's not forget those Mickey Mouse-shaped pancakes; they were a hit with everyone, young and old. The decorations were straight out of a fairytale, drawing inspiration from Disney classics like Alice In Wonderland and Snow White. It was like stepping into the pages of a storybook.
But wait, there's more! The pièce de résistance had to be the "It's a Small World" boat, filled to the brim with the finest wines and champagne. It was a touch of class in the middle of all that Disney wonder, and it made the whole day truly unforgettable.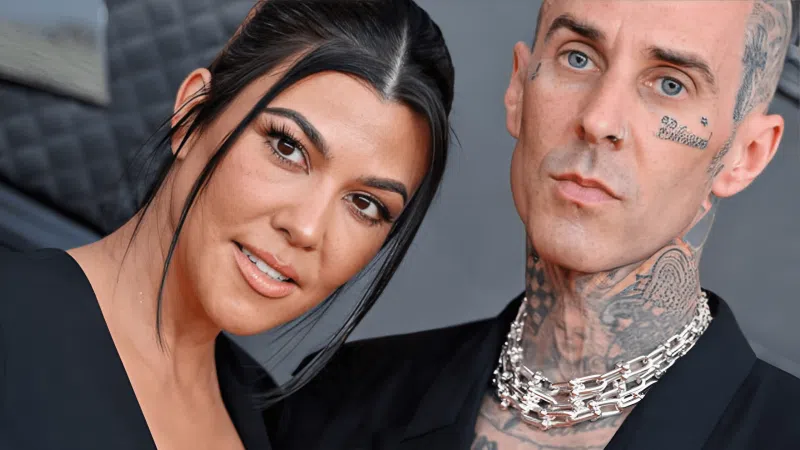 Now, let's dive into the story that brought us to this enchanting day. Kourtney and Travis spilled the beans about their pregnancy during one of Blink-182's heart-pounding shows in Los Angeles. You could practically feel the excitement in the air. And their gender reveal party? It was like a music tour brought to life, adding a whole lot of pizzazz to the mix.
Throughout the pregnancy, Kourtney made sure to express her deep gratitude for Travis's unwavering support, especially during a challenging complication. It was heartwarming to see their medical team stepping up to ensure the baby's well-being.
This new addition is going to fit right into their loving family. Kourtney has kids from a previous relationship, and Travis has his own from a past marriage. The anticipation and love surrounding this growing family are undeniable. This baby's arrival is one of the most eagerly awaited moments in the world of celebrities.
So, as we eagerly await the newest member of their enchanting family, let's take a moment to appreciate the magic, love, and creativity that Kourtney Kardashian and Travis Barker brought to life in their Disney-inspired baby shower. It's a real-life fairytale in the making.
rewrite each paragraph using easy writing tone and write it like human while avoid writing ai like sentences. Add emotions, observation, opinion whenever needed.