Kevin Durant is no stranger to, let's say, odd behavior off the court. The guy is, however, a phenomenal athlete and a once in a generation basketball player. And he's played with some absolute studs throughout his NBA career. 
The former Most Valuable Player and two-time NBA champion recently appeared on the Million Dollaz Worth of Game podcast. During the show, he listed the top five teammates he's ever played with. He started off with some obvious ones, Nets teammates James Harden and Kyrie Irving. Okay, those are obvious. Next he said Steph. Of course. Steph is one of the great point guards and shooters of all time. After that, Kevin Durant said Klay, as in Klay Thompson. The Splash Bros. undoubtedly propelled the NBA into a new era of fast-paced offense that focuses on transition O and dropping a plethora of 3-point nukes. (I'd argue the mid-2000s Nash-led Suns pioneered this style, but that's a conversation for another day).
So of course KD put Steph and Klay in his top 5. But before he finished the list, he paused for a moment to think about who else he was leaving out. I'm sure you are doing the same right now. That's when Durant came to his senses and said the name. Serge Ibaka.
No joke, he said Serge Ibaka. He forgot to include Russell Westbrook. If you follow this periodical and this byline, then you'll know that I will not stand for any Russell Westbrook slander of any kind. I will not stand for it! It is not welcome. Not from Stephen A. or Kevin Durant or anyone! And I hereby hang the garlic on the door to ward off any blood-sucking vampires attempting to smear his name. Russ is a DOG and the most athletic point guard of all time.
Even Blazers guard Damian Lillard responded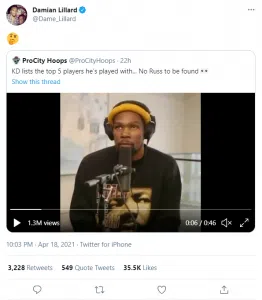 Anyway, the hosts of the podcasts voiced their surprise at his choice to include Serge Ibaka. Kevin Durant, then, admitted to his mistake. He said, "I am tripping. Russ, yeah. I forgot about Russ." He then placed Westbrook on the list at the number four spot between Steph and Klay. Thank God.