It's normal to take pride in your appearance and want to look your best always. Luckily, there are several effective cosmetic tips and tricks to enhance your overall look and make the most of your products. Here are six essential cosmetic tips to consider.
Use a shampoo bar
Use shampoo bars instead of liquid shampoos. They're made with natural ingredients, free of harsh chemicals, and won't irritate or damage your hair. Shampoo bars are also travel-friendly as they don't take up much space in your luggage.
Shampoo bars are becoming popular due to cost savings and less packaging waste. They work just as well, if not better, than regular shampoo! For a cosmetic tip, consider using a shampoo bar to maintain your best look.
Exfoliate your skin
Exfoliating the skin is vital for two reasons. Firstly, it removes dead skin cells that make the skin dull. Secondly, it helps skincare products penetrate deeper and work better. A simple and effective way to exfoliate is by using a sugar scrub. Mix sugar and olive oil, gently massage in circles, and rinse with warm water for smoother, softer skin.
Use a face mask
Face masks are a great way to improve your complexion. They deep clean pores and remove impurities. You can find various types tailored to your needs, like clay masks for oily skin and hydrating masks for dry skin. Follow the directions and rinse off thoroughly after use.
Moisturize regularly
Moisturizing is essential for your skin. It keeps it hydrated and prevents dryness and irritation.
Moisturizing daily has several benefits. It keeps your skin hydrated, preventing dryness and early aging with fine lines. It also locks in nutrients, giving a youthful, plump look, and shields your skin from wind and pollution.
To moisturize your skin, you have options like daily facial moisturizer, body lotion, or coconut oil. Pick what suits your skin type and apply evenly on your face and body.
Enhance your skincare with our serums and face oils. These specialized products deeply hydrate and moisturize your skin, revealing a radiant, youthful complexion. Experience their brightening effects and reduced appearance of fine lines and wrinkles.
Use an oil cleanser
Oil cleansers are gaining popularity for their effectiveness in cleansing the skin. They remove makeup, dirt, and excess oil while maintaining the skin's natural oils.
Using an oil cleanser won't make oily skin oilier. It actually balances your skin's oils, leaving it soft and smooth.
To use, massage a small amount onto your dry face and wipe it off with a warm, wet washcloth. Start with a light cleanser if you're new to oil cleansers and adjust based on your skin's needs.
Protect your skin from the sun
To maintain your skin's optimal condition, it's crucial to shield it from the sun. Sun's UV rays can harm your skin, leading to early aging and raising the chances of skin cancer.
Keep your skin safe from the sun by using sunscreen with SPF 30 or higher whenever you're outdoors. Apply it generously and reapply every two hours, or as necessary while swimming or sweating.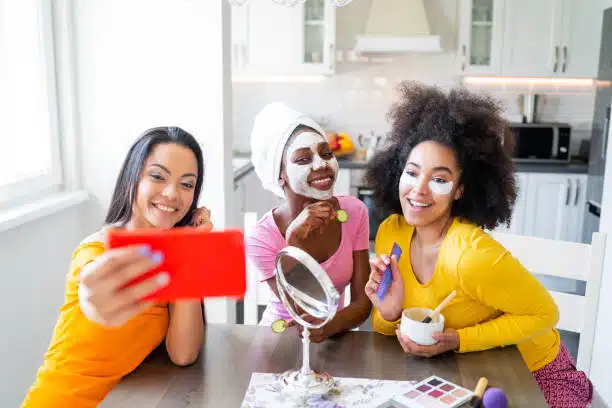 Following these simple cosmetic tips can help you keep your skin looking its best. Remember to be patient – it takes time for your skincare routine to take effect. With regular care, you'll witness a visible improvement in your skin's appearance.
Which of these cosmetic tips will be implemented into your daily routine?