The line wraps around 11th and Spring Garden about an hour before doors open at 7, as a slew of high school teens and early twenty somethings, better known as the Hoodie Mob and mostly migrating from the suburbs, wait to file into Union Transfer. On the ticket: Hoodie Allen.
A stark contrast from the West Philadelphia streets he used to navigate through while attending and graduating from the University of Penn, Hoodie's, born Steven Markowitz, fan base is mostly comprised of white, upper middle class guys and girls. In fact, the latter throw their bras on stage, a compliment Hoodie pays respect to by playing jump rope with them.
Eventually, the doors opened, the line moved, and after a security check, fans in attendance had a chance to meet Hoodie, 29, at the merch table from 7-8pm until his opening acts hit the stage. I used the time to formally introduce myself.
"Write nice words," said Hoodie with a smile on his face as we part ways before the show.
It was during his "Happy Camper Tour" I was introduced to Hoodie's music. Admittedly, I went to his Philly show at the Electric Factory to see Super Duper Kyle, his opening act, but Hoodie, originally from Long Island New York, was the headliner for a reason.
An independent artist, Hoodie has been able to amass just over a million Twitter followers on his own, followers that support every project he puts out which allows him to self release his music. Hoodie's EPs All American and Americoustic charted on the Billboard 200 at 10 and 28 in 2012 and 2013, respectively.
In addition, his previous two albums People Keep Talking and Hap py Camper charted at 8 and 28 in 2014 and 2016, respectively. The Hype, the album he's currently supporting on tour, charted at 166, but remember as an independent artist there's no middle man to pay.
Not bad for a guy who left his job at Google to become a rapper.
On "The Hype World Tour", Hoodie who began rapping in 2008, according to his YouTube channel, had a new cast of openers in the form of California natives Myles Parrish, 25, and Luke Christopher, 24 who were supporting their respective albums Vomac and TMRWFRVR. (Blackbear and Kyle benefited greatly from opening for Hoodie, so these two are in position to do the same.)
The night kicked off at approximately 7:45PM when Parrish's DJ came on stage. With just over 200,000 Twitter followers, Parrish had a strong following that only increased while opening for Hoodie. Parrish, about 5-foot 10-inches tall, shortly followed his DJ with his skinny frame in black and white vans, black cuffed jeans, and a black windbreaker over his grey Kennedy hoodie.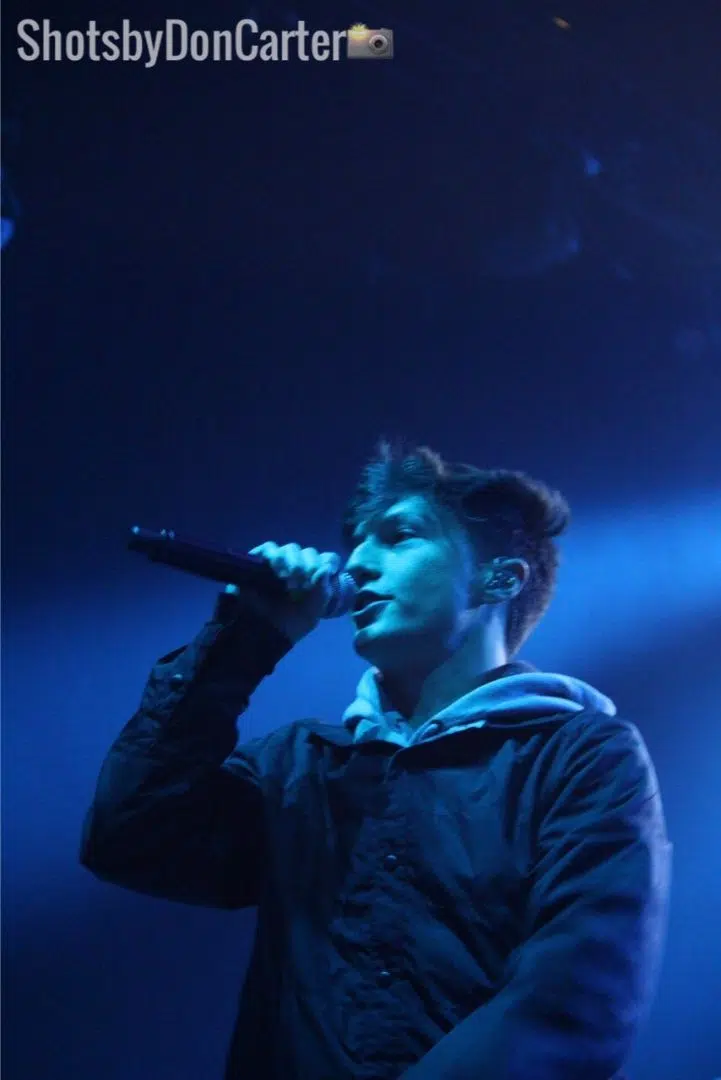 Once Parrish removed his jacket, the party officially started. Bouncing from one side to another on stage while jump kicking, the crowd sang along, as Parish performed tracks "Mobbin" and "Cut A Rug", most notably.
As the crowd died down, an inevitable occurrence if you're not the headliner, Parrish, who was very animated, kept up his enthusiasm. After asking who else was from California, the crowd's engagement picked back up after Parrish directed everyone to pull in the closest person to them. While he botched his crowd surfing attempt, falling on stage, Parrish set the mood for the night, have fun.
Luke Christopher, lesser known with just under 28,000 Twitter followers, followed Parrish encouraging fans to text 646-833-0063 with the message "#FreeHoodie,", so they could fill out a form to be eligible to come on stage during Hoodie's set. Sporting black and white Adidas track pants, a polo wife beater, and a yellow windbreaker, complimented with black and white old skool vans, Christopher declared to the crowd one thing.
"I'm Luke Christopher, and I'm from California, and we're turning up tonight," said Christopher holding the mic out to the crowd.
With gold ear rings and a gold chain, orange-blonde hair sticking out of his hat, and a gang of tattoos, most notably one behind his left ear, Christopher had the crowd clapping, bopping, and interested throughout his set. Christopher's brief dead crowd period came to a halt when he performed "Waterfalls" and the crowd's hands went up. The crowd swapped raising their hands with phones when Christopher performed "The Lights".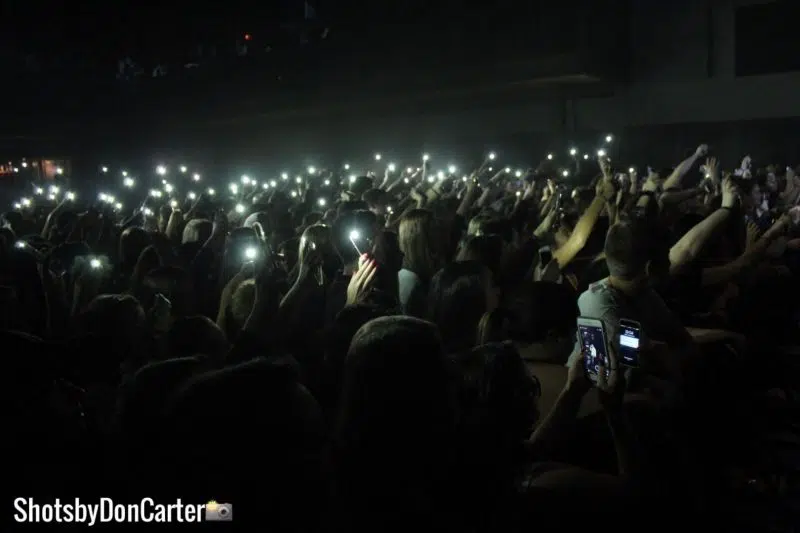 Christopher ending his set thanking the crowd for the opportunity, taking a crowd selfie with a fan's phone.
And just like that, at about 9:35PM the lights went dark and Hoodie Allen's band appeared on stage. The crowd's hands went up, followed by cheering, when Hoodie accompanied them a few moments later and went into his set starting with "Believe". In black and white checkered vans, black skinny jeans with a biker chain, and a red and grey plaid button up, Hoodie was center stage and the crowd sang every word, as Hoodie shot fake money into the crowd.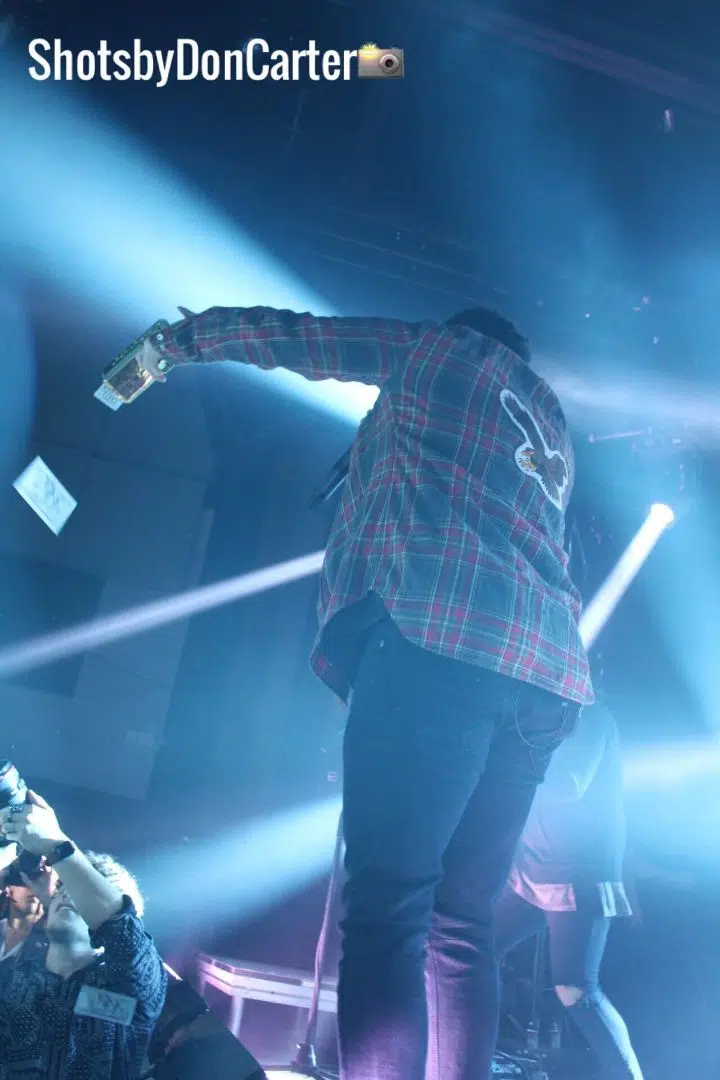 "Ready to have fun tonight?," said Hoodie to the left and right side of the crowd with his mic.
The show had officially started. Hoodie said it was his first time performing at Union Transfer, a venue that could hold up to 1,200 and was nearly sold out. Hoodie held his mic out to the crowd often and if they needed to they could've sang every word.
"Everyone have a good thanksgiving?," said Hoodie before performing "Something Dangerous" off of his most recent album The Hype. "We're hoping this is the best fucking show on tour."
Hoodie removed his plaid shirt to the screams of the white teen girls around me, so essentially the entire crowd. Philly felt like home, Hoodie said, as he stated even shy people were going in tonight. Hoodie added songs to his set list on the fly, most notably "Cassonova" off his 2013 project Crew Cuts. To those in attendance, Hoodie wasn't a concert, Hoodie was a thing that his niche, cult fans gravitated toward and worshipped.
After shouting out Matty B on the lights for being "athletic as fuck", Hoodie said to the crowd it's supposed to be a family here, reading a gang of text messages fans sent him during Chrstopher's set. Rebecca was the lucky fan that got her named called and went onstage. Accompanied by a hug from Hoodie, Rebecca won a t-shirt and announced my favorite song, "Surprise Party" was next.
Hoodie sang Blackbear's hook, too, as blinding red strobe lights and balloons appeared. Later on, Hoodie would throw a slew of cakes in the crowd, including one that he managed to land on the top balcony. (Who's really athletic as fuck? You, Hoodie.)
Hoodie Allen performing at Union Transfer Friday November 24, 2017

"I'm looking for the person that knows the words to every song," said Hoodie, handing the mic to a fan in the front row to rap the next song.
A theme on his tour, Hoodie performed acoustic song "two lips" while the crowd moved their cell phones left to right. Back to Happy Camper, Hoodie pleased the crowd performing "Champagne and Pools", but more impressive was the fact he recited Kyle's verse.
Hoodie then went into "Fame Is for Assholes", pleasing OG fans, where now in the bar section some of the twenty something women in attendance were salsa dancing while guys were locking arms. Next, Hoodie gave the crowd three song options: "Fakin'", "James Franco", and "Eighteen Cool" to vote on using their phones.
The winner: "Eighteen Cool"
"The people that voted, we're going to play some All-American shit, that's what we're going to do," Hoodie said.
Hoodie performed a sped up version of "Fakin'" anyway acapella, bursting out laughing at the end. And, that's when the bras flew on stage.
"I'm sweaty, I'm hairy," said Hoodie preparing to take a crowd selfie. "I can't do a perfect push up, not sure what you want here." (Maybe it's your haircut? Maybe it's the money in your bank account.)
In the city of brotherly love, Hoodie took a second to pay homage to Carson Wentz for killing it on his fantasy team, stating he wouldn't be 9-2 in fantasy football without him (I felt this on a spiritual level).
"For the rest of the show I'd like to play motherfucking bangers," said Hoodie as he went into "Know It All".
Truly a diverse artist, a mother and daughter brushed by me in the bar section right before Hoodie cut into "All About It" after performing "No Faith in Philly". Hoodie "wrapped up" the show with "Ain't Ready".
After that, the stage went black, but OG fans knew a "Hoodie" chant would earn the crowd a two song encore, so they began chanting. Hoodie reappeared on stage with a floatie. (BREAKING: Philly legally adopts Hoodie).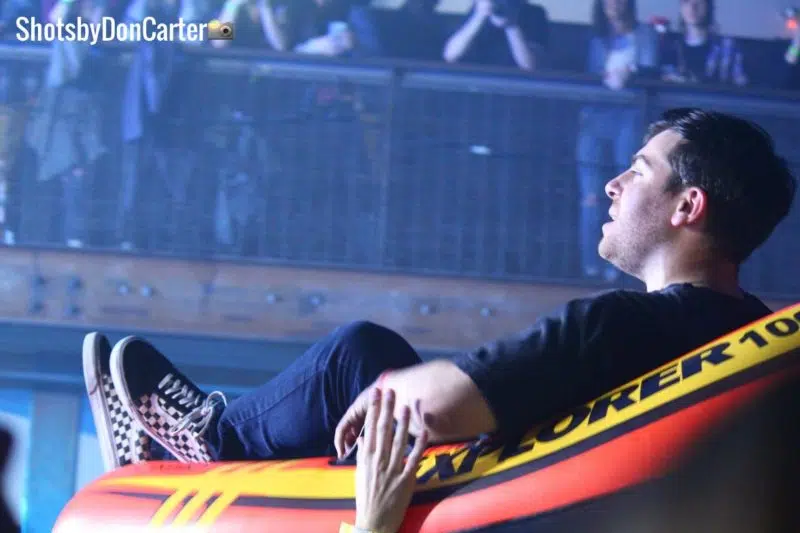 "Philadelphia, thank you so much for being fucking great," said Hoodie officially ending the show at 10:55.
All in all, Hoodie's show is a perpetual cycle of having fun, a distraction from the world's problems and something we all need.
Hoodie begins the second leg of "The Hype World Tour" overseas Wednesday.
Tickets: click here.