Amanda Knox Announces Second Pregnancy A Heartwarming Tale of a Growing Family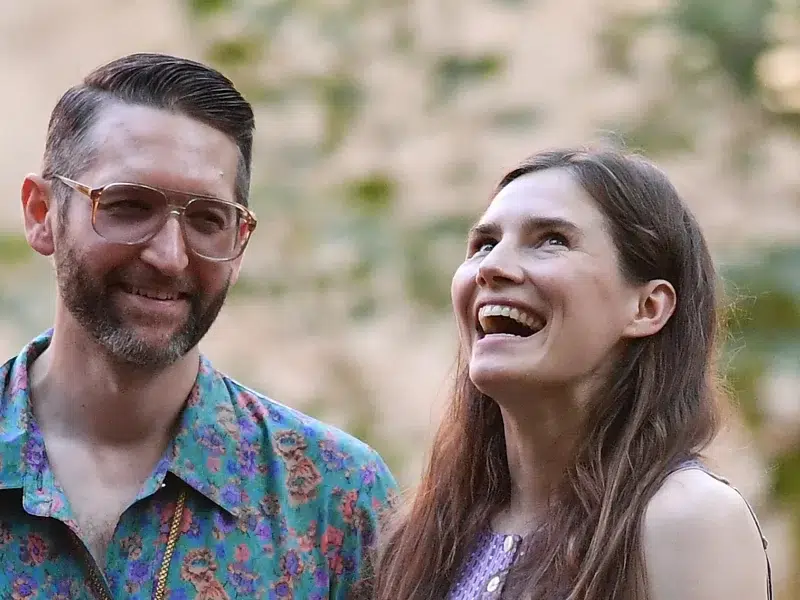 The sweetheart who publishes books and podcasts that are pure fun, Amanda Knox has attracted her fans with the announcement of some good news. On Instagram, she announced that she and her loving husband Christopher Robinson are eagerly waiting for their second child.
The announcement is paired both with an endearing snapshot of Amanda in a lovably oversized jumpsuited ensemble that fondly embraces her expanding belly and cleverly titled her announcement "'Pregspreading.'"
The pregnancy news of Amanda Knox is just a mega personal milestone and also a story of growing love. It is proof enough of the boundless bond between Amanda with her husband, Christopher Robinson. The couple has already become parents once, and now they are ready to face the joys and trials of parenthood.
Amanda and Christopher's insistence on preserving the family's privacy is also clear. Not sharing images of their firstborn, Eureka Muse, on social media speaks volumes about a desire to give their child the priceless gifts of autonomy and privacy that are so valued in this world.
Contrasting with Amanda's previous experiences, where her life was thrown open for public consumption due to widely reported events, their choice to veil the innocence and respect for personal space held by their children speaks volumes as to how much they love being parents.
Their 2-year-old daughter, Eureka Muse, was kept secret. That just showed Amanda and Christopher's commitment to protecting the family from paparazzi. The couple felt that the paparazzi wouldn't be respectful of their desire for a kept secret birth for Eureka's arrival into this world. This choice – out of an instinct to protect their child from public scrutiny – is proof of the strong bond between parents.
Amanda and Christopher's podcast is a place to share their odd parenting together with spotlight experiences. In one touching episode, Amanda and Christopher shared that they never posted images of Eureka on social media. This choice based on a deep belief in respecting the individuality of their child reflects Amanda evolving from the figure of public intrigue into a woman who is dedicated to the wellness of her family.
Amanda Knox's journey from global media attention to her present position as a radiant mother and wife embodies the strength of the human spirit. Her adaptability, evolution, and acceptance of life's perversities showcase resilience and growth. With a second child on the way, Amanda and Christopher are ready for another unfolding filled with love, joy, and that profound beauty of parenthood.