While the world of celebrities seems like a dream come true, not everything is all roses and rainbows. For instance, not all stars get along with each other. Some may have a few online spats and feuds, but others will fist fight right in the middle of a street.
Recently, singer August Alsina made public claims that Tory Lanez assaulted him in Chicago this past weekend. Turns out the "LUV" artist attacked August Alsina for refusing to shake his hand. Talk about a big ego.
Tory Lanez Attacked Alsina For No Reason
It's okay that some people just can't stand to share the same room together. Not everyone likes each other, in real life and in the entertainment business. Though, simply not liking someone doesn't call for brash reactions. Unfortunately, rapper Tory Lanez has a bad temper and a really huge ego. Do you see where we're going with this?
Recently, August Alsina accused Lanez, or rather, "the 4'11 Leprechaun" of assaulting him this past Sunday night in Chicago. Case being that the "Say It" rapper was mad all because Alsina didn't shake his hand. Apparently, Alsina has orders from his doctor not to shake hands with people to avoid exposure to COVID-19 and Monkey Pox, since he suffers from an autoimmune disease. Not to mention, Alsina called out Lanez for "blabbering about his personal business to the public."  Unfortunately, that sent Tory Lanez over the edge and the two got into it.
Furthermore, the "Benediction" singer has since called the assault a "sneak attack." Making matters worse, he posted photos on Instagram of the damage Lanez had done to his face, showing a busted and bloody lip. Moreover, Alsina later accused Lanez of attempting to cover up the altercation. Fortunately, the "Kissin' On My Tattoos" singer spoke out against the Canadian star. "We gone always stand on TRUTH," Alsina said in a Twitter post.
It's clear that Tory Lanez has some serious anger management issues that he needs to work on and fast.
            He Denied The Altercation Even Took Place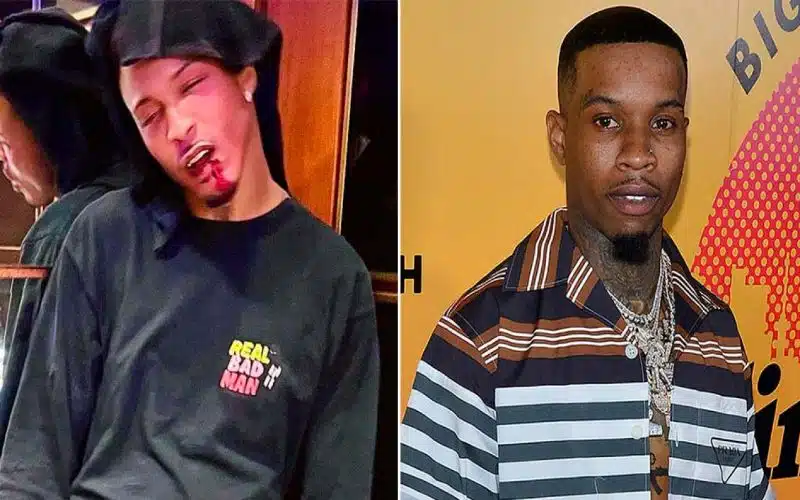 While August Alsina has sworn up and down that he had a scuffle with Tory Lanez, the "Differences" emcee has since denied the allegations. During his interview with DJ Akademiks, Lanez flat out stated he has no clue what fight Alsina has been referring to. From the photos the "No Love" singer posted on Instagram, we're not entirely sure that's true. Of course, some stars who become irrelevant or cancelled by cancel culture will try anything to return to the spotlight. Clearly, someone wants major attention from the media.
Do you think the altercation between August Alsina and Tory Lanez is a publicity stunt gone wrong? Let us know in the comments.