When it comes to Saweetie, she knows how to keep audiences on their toes. The 28-year-old has been on an unbreakable streak for the last year or so. By now, she's done several performances, signed major deals and even released some new music. The woman is unstoppable. Not only is she one busy bee, but she knows how to keep her style fresh and new. Specifically speaking, Saweetie's SNL hair made fans go wild. Turns out her new hairstyle was inspired by huge, iconic singers from the past. Talk about turning something old into something new.
  Saweetie's SNL Hair Drew Inspiration From Music Icons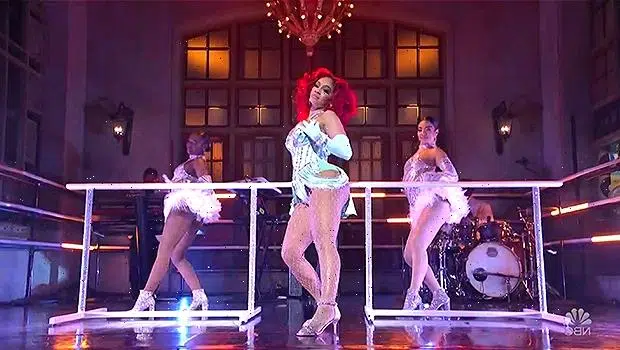 It's pretty obvious that Saweetie has an affinity for the classics. So far, the 28-year-old has dressed as Destiny's Child and Halle Berry's 2004 Catwoman for Halloween. Saweetie maybe one of the biggest female emcees out there, but she loves all things nostalgic. Most recently, the "Tap In" rapper debuted her voluminous red hair during her sizzling SNL performance this past weekend. On November 20th, the 28-year-old took to the Saturday Night Live stage to sing her new song "Icy Chain." While the hair change wowed the audience, the inspiration behind it is just as interesting.
According to her hair stylish Kendall Dorsey, they wanted to recreate hair looks from icons like Donna Summer, Brigitte Bardot and Sophia Loren. "We were definitely inspired by iconic women in entertainment who faithfully rocked big, voluminous, romantic hair . . . We wanted to merge all of these iconic looks together and turn them into 'modern day Saweetie'," Dorsey told Stylish Magazine. In other words, Saweetie's SNL hair brought back an old school look.
            The Origins Of Saweetie's Hairstyle
In most cases, it's not easy to successfully pull off red hair. Though, Saweetie and her stylist Kendall Dorsey did the unthinkable. Furthermore, the duo went for a hairstyle that had vibrancy, stage presence and could be worn on a daily basis. More importantly, Saweetie "wanted to live in the world of reds." In the end, the rapper and her stylist settled on the Dark & Lovely Fade Resist Vivacious Red. By Saweetie being the ICY GIRL that she is, the color seemed like a perfect choice for her SNL performance.