Takeoff's death has been a hard pill to swallow for many fans and celebrities alike. Arguably, most of us are still reeling from the news and nature of his murder. Even so, tributes have continued to pour in for the slain Migos rapper. Even their hometown of Atlanta has honored his memory indefinitely. Recently, the Atlanta Falcons immortalized Takeoff's legacy in a heartfelt tribute.
The Atlanta Falcons Dedicate A Tribute To Takeoff
Death is never an easy situation to deal with. Though, it goes without saying that grief takes time and plenty of healing. Since his death, people have paid their respects to the rapper's family and friends. Additionally, the Atlanta Falcons even honored the Migos rapper's memory.
On Sunday, the Atlanta Falcons paid tribute to the Migos rapper. Furthermore, the ceremony took place at the Mercedes Benz Stadium just right before the team's game against the Los Angeles Chargers started. The "Bad and Boujee" star will definitely be missed.
A Mural Of The Migos Rapper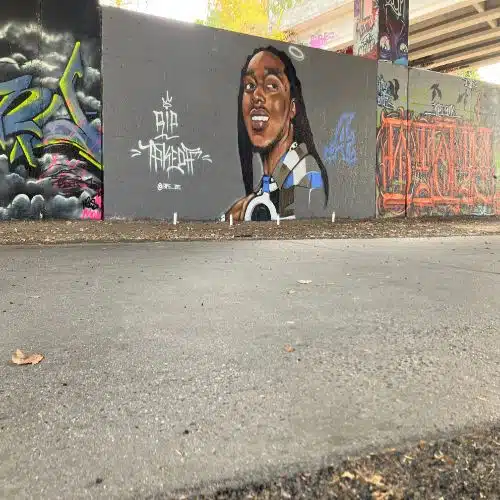 Fans have especially shown their love for the slain rapper. Days before the Atlanta Falcons' tribute to Takeoff, one of Atlanta's very own local artists Armando Monoletti painted a mural of the artist as well.
Furthermore, the painting shows the slain rapper smiling with a small silver halo above his head. The mural can be found along the Atlanta BeltLine. Additionally, the image of the artist's mural appears on Say Cheese's Twitter page as well. All in all, Takeoff has definitely left his mark on the world. We at Hypefresh give our sincerest condolences.