Winning awards comes natural to some celebrities. Actress Regina King certainly has won a string of awards over the years. Not to mention, the award-winning star has an impressive resume that'll put any amateur actor to shame. Regina King is arguably one of Hollywood's greatest talents. She's done everything from starring in sitcoms, huge blockbusters and now directing her own films. Given all her attributes and hard work, she's finally receiving the honorary title she deserves.
King's Honorary Title Set In Stone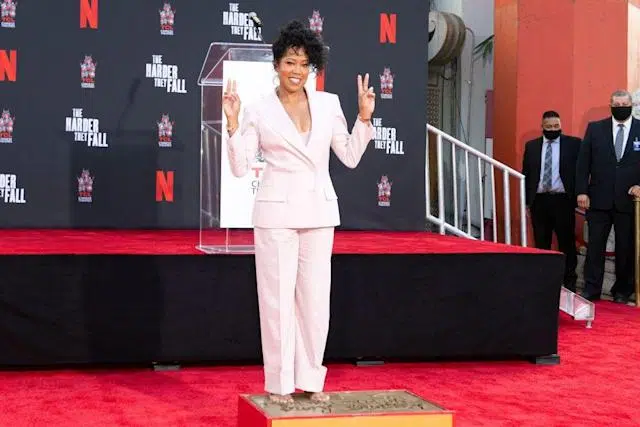 It's not everyday that someone gets the chance to make their mark on the world. By doing so, they also leave behind their legacy. Regina King's elite status in Hollywood was finally recognized this past week.
On Thursday, The Harder They Fall actress cemented her hand and footprints at the Walk Of Fame outside the TCL Chinese Theater. Additionally, Regina King also left behind the words "No place like home" on the cement block. Moreover, the phrase alludes to the theme song from an earlier role she held in the sitcom 227.
During the ceremony, King also discussed her recollection of seeing the Walk Of Fame as a child.
"I was searching for Bette Davis's hand and footprints, and that was my main objective. However, what surprised me was how it took me a while to locate her footprints because I kept stumbling upon someone else's," King shared.
The queen definitely deserves the honorary title.
Family Praises
The honorary title didn't just go to Regina King though. It also went to her family, specifically her sisters Pat and Reina who attended the event in Los Angeles. King's family had nothing but praise and admiration for King. Not to mention, a few childhood sentiments to share at the ceremony.
"We knew she had greatness, didn't we?" Pat asked to King's other sister. Reina responded in agreement. "We did. We did-even when she was getting on my nerves!"
Clearly, King's sisters are proud of her accomplishments.