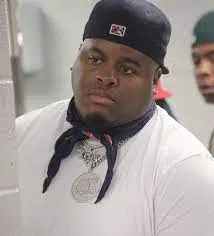 Rapper Duke Deuce of Memphis, Tennessee runs for cover on his Instagram Live as gunshots clapped in the background.
Duke Deuce, whose real name is Patavious Isom, is a Quality Control Music breakout artist. The 27-year-old rapper continues the M-Town hip-hop reign after releasing two hot singles in 2018, "Whole Lotta" and "Yeh". The track "Whole Lotta" quickly gained notoriety for its retro Memphis  aesthetic.
Deuce sparked his own dance craze wave, 'Style Dance' that went viral on YouTube. In his music video, "Yeh", he shows off his dance moves with friends on a rainy day. The dance is remnant of the Memphis Gangsta Walk. It's popular because of greats like Crunchy Black of Three Six Mafia.
Crunk Music Ain't Dead
According to Commercial Appeal, for Duke Deuce, hip-hop is a family business. He grew up alongside his father, producer Duke Nitty in the studio. His father's credits include Gangsta Blac, Nasty Nardo, Dem Thugs and Mobb Lyfe.
Liveabout Dotcom explains 'crunk music' to be a mix of hip-hop and electronic dance music, creating uptempo tracks that are perfect the dance floor. In the 1980's partygoers used the word 'crunk' to describe being hyped up.
Duke Deuce's Love For The Crunk
Deuce's love for 'Crunk' seems to be unwavering as the rapper unveils to news sources. He boasts his love for legends like Project Pat of Three 6 Mafia. "I said now that I got this Memphis sound I'm gonna need one of these OGs on this song, so I reached out to Project Pat for that track ('Hits')."
Shots Fired
This week, Duke Deuce appeared on Instagram Live smiling for his fans. According to HNHH, the rapper encouraged fans to come outside to chill.
"Come outside and f*** with me, Peppertree, "We ain't on none of that bougie shit, none of that Hollywood shit." Soon after, a rain of gunfire hailed towards the rapper, prompting him to take cover. His gold diamond QUALITY CONTROL chain can be seen dangling.
Thankfully the "WTF!" rapper survived the horrendous moment. He has been active on social media since the shooting, relieving his fans.