In the past, our ancestors dreamed about the incredible advancements technology would bring in the future. Now, those advancements have already arrived. But the progress of Ai starts messing things up, especially in the music industry.
Nowadays, fake songs keep appearing and creating vibes of long-deceased artists, covering new releases and sometimes even releasing artificial tracks in the name of artists like Drake, the Weekend, and many others. It is a bad practice to use anyone's voice without their consent, and rapper Nicki Minaj also experienced some disturbance related to her image, which was stolen and used for deep fakes.
If you are well aware of the trending topics, you might already hear about the Deep Fake Neighbor Wars. Deep Fake Neighbor Wars is a new comedy series show released on ITVX in January 2023 for the first time.
The issue arose a few months after they started pairing some unexpected celebrities in a simulation world. They also made pair of Adele, Jake Paul, Rihanna, Usain Bolt, Beyonce, and Billie Eilish. Kim and idris elba also appeared alone in one of their episodes.
One of the interesting parts of this video series is that the characters have taken on alternative roles in the deep fake world, like a handyman/delivery driver and a bus driver. In their last released video, we saw Nicki Minaj appears alongside Tom Holland, the actor of Spider-Man.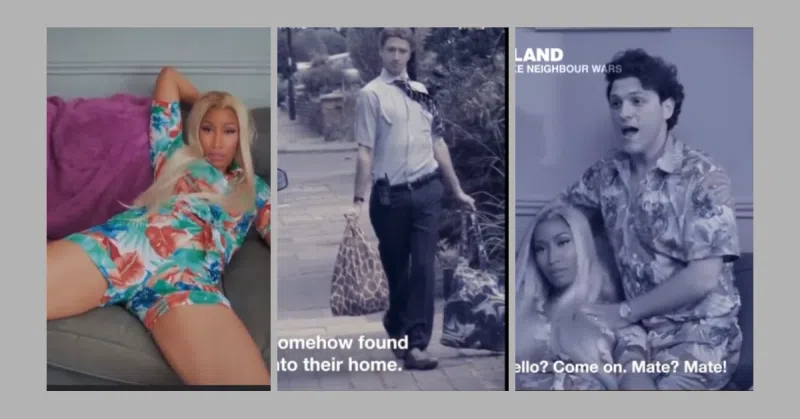 Nicki isn't feeling well about the latest ITVX AI Series featuring her without her consent.
So this Sunday weekend, the queen of rap suddenly saw her deepfake video as it floated on the internet and social media. In the clip she retweeted, she and another star, Holland, recounted a peculiar experience with Mark Zuckerberg. While her outfit was quite fashionable, Minaj's vocal delivery seemed off-putting.
HELP!!! What in the AI shapeshifting cloning conspiracy theory is this?!?!! I hope the whole internet get deleted!!! https://t.co/fFx1SDtj8o

— Nicki Minaj (@NICKIMINAJ) July 9, 2023
In response to the deepfake, Minaj threw strong questions to her followers on social media by asking, "What in the AI shapeshifting cloning conspiracy theory is this?!?!!" She also expressed anger over using her likeness; she wrote, "I hope the whole internet gets deleted!!!"
See More Clips From Deep Fake Neighbour Wars