Reality T.V. Star Ashley "Minnie" Ross is Dead after a Hit and Run in Atlanta.
Popular Little Women Atlanta costar Ashley "Minnie" Ross died Monday night after an apparent hit and run. Ross succumbed to injuries suffered Sunday night following a car crash in Atlanta; she was 34.
In a post on Minnie's Instagram, her management team released a message confirming the T.V. star's death.We are deeply saddened to inform you that Ashley Ross, also known as 'Ms. Minnie' from Little Women Atlanta, has tragically passed away today at the age of 34 due to injuries sustained in a hit and run car accident. The family kindly requests privacy as they mourn during this incredibly challenging time.
Eyewitnesses told police that the other car involved in the crash fled the scene after the accident. Police are still investigating, and no additional information is available.
Ross is survived by her loving mother, grandmother, aunt and uncle, and many other family members. Originally from Tennessee, Minnie became a fan favorite on Lifetimes Little Women Atlanta show throughout the last decade.
A rep for the show described Minnie as "the most beautiful, kind, giving, generous human ever." Further adding, "She was adored by cast and crew because she always wore her heart on her sleeve, "There's nothing she wouldn't do for those she loved."
Minnie's fellow costars began expressing their condolences on social media last night. Twin Amada Salinas was one of the first to share a heartfelt tribute.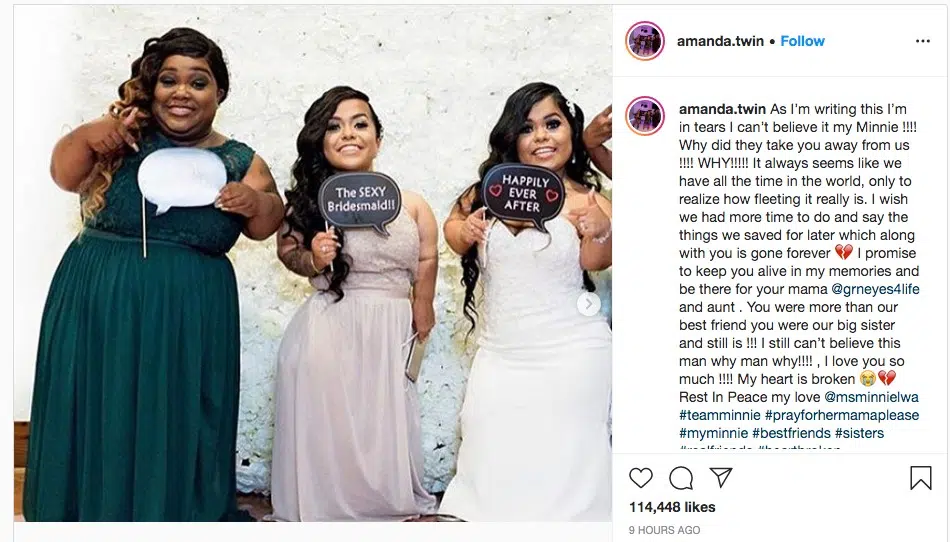 As of last night, Little women Atlanta Minnie was trending on twitter. R.I.P. to Ashley "Ms. Minnie" Ross
Let us know your thoughts on Little Women Atlanta Minnie's passing in the comments.