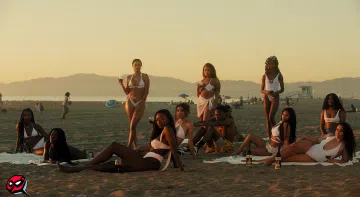 Chicago rappers have been taking the G Herbo and Lil Eazzyy have officially released the visual for their "Onna Come Up (Remix)". Directed by AJ Spitz and produced by No More Heroes this song only furthers Eazzyy's rise to fame as a recording artist. As Eazzyy released the first version of "Onna Come Up" last summer, the music video generated over 3 million views worldwide.
The remix, is a perfect follow up as it features none other than G Herbo. The have a musical chemistry that meshes well for the listening ear. Visually you will see Eazzyy looking sophisticated in a black suit matching his crew, as if they were on their way to a funeral. As he spits some of his rawest bars to date, you will see a black umbrella in flames creating a memorable viewing experience for on lookers.
His high level of creativity reaches an all time high on this release, having the backing on one of Chicago's biggest rappers. Adding in some sexy ladies on a beach dripped in all white, shows off this emcee's growth as a recording artist and entertainer. As he continues to make an impressive run in the industry, his talent is unmatched. That Chicago drill music made popular by Chief Keef, Lil Durk, and G Herbo has set the stage for this rising Chicago superstar to find success in a mainstream way.
With his project Underrated breaking him into the music business, you has the city on his back all of 2021. Press play below to stream Lil Eazzyy's new "Onna Come Up" (Remix) video featuring G Herbo below.