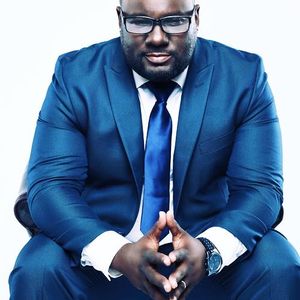 L.O.U.D Muzik, the No. 1 independent label out of Houston, Texas is at large and doing major things for the city. The label is a forward-moving platform for not only music endeavors, but also encompasses a wide range of platforms. For example; artist management, printing, music festivals for independent artists and a NEX Vodka line, according to L.O.U.D Muzik.
Mastermind Behind The Grind
L.O.U.D  Muzik's founder and CEO, Derrick McKinney is a class act to follow. The motivation and faith he promotes behind his music family is the perfect example of supreme sportsmanship. Supreme sportsmanship, meaning music is a sport, either get in to win or get out. Bearing the fruit of his labor, McKinney is able to spread opportunities through a Radio Press Junket.
The junket is L.O.U.D's first major press event, with grand appearances from B.E.T's producer, Chris Bivins on behalf of RIFF and Lil' Flip. HypeFresh Magazine snagged a moment with the CEO for a few quick questions:
Interviewing With Derrick McKinney CEO of L.O.U.D
Derrick McKinney, humble and inviting graciously allowed us to sit with him to answer things the people want to know.
Who is Derrick McKinney?
Derrick McKinney: I guess I like to think of myself as an entrepreneur and a businessman first.  I try to make sure I bring that into the music business. I don't want to be like, "I'm a music head or I'm a music guy, because I actually love the whole aspect of the business of it.
I love the publishing, the orchestration of the studio. I am intrigued by the business. I'm a husband, I'm a father, I'm a friend and a mentor to some. I'd like to say I'm am the most non music business, music business guy."
2. What is L.O.U.D Muzik?
DM: L.O.U.D is an acronym for live out your dreams. We are an independent record company based out of Houston, Texas. But, we've evolved into much more because we try to fill the void of everything we need, so we don't have to outsource anything. We needed the right press, the right media so we built a press junket. Our team wanted to headline festivals, so we started L.O.U.D Fest. We didn't get the right liquor endorsement we wanted, so we started NEX Vodka. We've evolved into, just our own brand, our own entity—I'd like to say our own planet. We feel like we are self-sustainable, we do everything for ourselves.
3. What inspired your creation of an artist centered record label?
DM: So, I was interviewing for a job with a major record label, as A&R, and I didn't get the job. They hired a celebrity rapper instead. So I was like "Okay, y'all just wanted a face for it, instead of somebody that's actually doing the work."
Then I worked on a marketing deal, and it was a substantial amount of money. I didn't do it because somebody like, "Yo I can do this cheaper for what Derrick can." So, we was in the studio, myself and with our first artist, Tim Ned. So I said, "Aye man, let's start a record label. I'll be the CEO, and you be the artist and let's just focus and go.". He was like, "Bet." I said we need a name, so he said let's do L.O.U.D, live out your dreams. I said, "Let's run with it." So we created L.O.U.D music, and that was June 6, 2012, we've been moving every since.
4. What role does your label play in the Houston music scene?
DM: The role we play in the Houston music scene is one where I want to bring professionalism to the city. We love to get 'turnt', we love the 'lit', we love all those things. But, I don't think we are aggressively attacking the industry, in the education of the industry, we do things to try to allow artists to move better, be better, grow better. And in turn, they make better artists and musicians. They make better decisions. Because it's really hard trying to get into the music industry, but when you don't know what you're doing, it makes it that much harder. You get screwed over, all your money and your passion.
So, we try to be that safe haven, but also that tough love. "Like yo, we gone do this sh*t the right way, and we gonna figure it out." So that we are the label that can do hip-hip, R&B, Top 40, EDM, House, Pop, country. Um, we're not just stuck in one genre. That's who we are.
5. What was the most important lesson you learned from organizing your first junket?
DM: The only lesson I learned was like artist's only care about performing, and they'll spend thousands of dollars just to say they performed somewhere. As opposed to a couple dollars to actually learn the business that can lead to the thousands of dollars. They are so misinformed that they think that getting on stage screaming and hollering and doing a song is going to change everybody's life. That's just not the case. So I've learned to be more patient with them. I have to do a better job explaining the purpose of it. The resources they will be able to have access to, as opposed to them just them thinking that the only thing that matters is performance. So that's one of the things I definitely learned.
6. Who are a few artists that you have worked with?
DM: Okay so I've worked with New Orleans artist, Choppa, Mr. Magic, I did the D12 Purple Pills record. I've worked with, I did the What's Your Fantasy when it was independent by Ludacris. I managed Z-Ro, I managed Lil' Flip, I managed Fat Pimp. We have the producer and artist, Tim Ned. We have Khody Blake, we have Skyra. I worked for R.Kelly, I worked for FUBU, I worked for Akademiks. I've been around, I've done a few things. I did a lot of stuff with J Records when they first launched. Happy to still be here.
7. Who are a few artists you'd like to work with?
DM: The artists that I would like to work with, I do. I don't have a wishlist, not to sound arrogant, I overly believe in artists we have on our label and our management team. I don't have a desire to work with anybody else. I want to see Tim Ned to be the biggest name on the planet. I want Khody, Skyrah and Fat Pimp to be household names around the globe. I definitely want Z-Ro to be recognized as the legend he is globally. I want Lil' Flip to have that storybook career that he's already created. "So I don't want to be like, "Yo I wish I could be over there with them."  I don't want to play on nobody's team. That's just not me, I'm ultra competitive. I only care about our stuff and who we are and what we do.
You know what?, I like to tell people man, just things that I live by is, we're just gonna work our butt off, stay focused, and keep our head down and do our jobs.