Kodak Faces Harsh Conditions In Jail
Kodak Black is currently serving 46 months in jail. In May of this year, Kodak was arrested for two counts of making false statements when purchasing firearms. The purchase was illegal due to Black being under indictment for criminal sexual conduct in South Carolina. Earlier this week on December 14, 2019, Kodak posted to Instagram to speak of his experience in jail. The post speaks of Kodak Black being mistreated in jail.
In this post, Black claims that he was drugged on October 29, 2019. Kodak speaks of being denied medical attention by a CO. Shortly after this Kodak got into an altercation with another inmate. The same CO officer who denied Kodak medical attention proceeded to pepper spray the rapper. This led to Kodak being unable to see and being further assaulted by the other inmate.
It would seem Black believes this specific CO officer has it out for him. In his Instagram post, Black writes of the CO wanting to capitalize on the rapper's celebrity status and get money from him. Some of the responses to his post speak of Black being at fault. Certain people feel Kodak being in jail so often is the reason why he is dealing with these bad situations.
This Is Not Kodak's First Time In Jail
Unfortunately, throughout the years Kodak has been involved in a number of legal troubles. Reasons for Kodak's incarceration include possession of firearms, possession of marijuana, as well as armed robbery. Along with these mishaps, Kodak has been arrested for violating his house arrest and probation. 
Besides armed robbery, these are not the biggest deals. But still, one would hope that the numerous run-ins with the law accompanied by his financial success would lead to him changing his ways. But how much blame does Black deserve? Is he just the product of his environment paired with a failed judicial and incarceration system in the United States?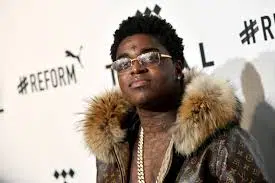 How Much Blame Does Kodak Deserve?
Just because someone has been to jail does not mean they are a bad person. Getting caught with marijuana really should not matter in this day and age. Instead, it seems to be another unnecessary result of the failed war on drugs. 
When it comes to charges of possessing a firearm putting things into context can help. Growing up in a poverty-stricken area like Kodak isn't the easiest thing in the world. One may simply possess a firearm in order to protect themself from the violence around them. Regardless of whether or not one feels what Kodak has done is wrong, the need to improve America's jails cannot be overlooked.
Kodak Isn't The Only Person Suffering In Jail
When someone is in jail they should not be fearing for their safety such as Kodak has. The U.S. has the highest number of people locked up per capita in the world. The United States is also infamous for its mistreatment of incarcerated people. 
An article published on the New York Times in April of this year titled, "The Everyday Brutality of America's Prisons", references the fact that prison guards in Alabama have gone to accept the high rates of violence and sexual abuse that occur within the jail. Along with this, a study by the Bureau of Justice Statistics found that in 2015 there were over 24,000 reports of sexual violence in jails. This is almost three times more than the number of sexual violence reports in 2011. 
As these shocking numbers reveal sexual and physical abuse are normal things for inmates. Even worse is these conditions don't seem to be improving. Instead, people who have been hired to keep order within jails such as guards have simply gone to accept the fact that all of these messed up things take place.
Final Thoughts
When it comes to the case of Kodak Black it is unfortunate that he has landed back in jail. One would hope he would be making smarter decisions now thanks to his financial success. But how easy is it to escape the U.S. judicial system? There are no real attempts to rehabilitate inmates, instead, it would seem the choice of harsh and repeated punishment are the preferred routes.  
What are your guys' thoughts though? Does Kodak deserve to be in jail? Even if he deserves to be in jail what can be done to improve a jail system that leads to thins such as Kodak Black being mistreated in jail, as well as constant physical and sexual violence?