Bianca Censori, who happens to be the wife of the famous rapper Kanye West, is making quite the fashion statement while they explore Italy. Their fashion choices are raising eyebrows and sparking conversations everywhere they go.
During a casual shopping day in Florence, everyone couldn't help but notice Kanye West's signature all-black look. But what really caught people's attention was the fact that he decided to go shoeless, just casually strolling around without any footwear.
Bianca and Kanye West were seen walking on the streets of Italy with their insane outfits 😧

Bianca is covering herself with a pillow as an outfit 😭

Kanye West really be making his girlfriend wear that out in public 😂 PIC.TWITTER.COM/XZKQPFXKQO

— Forberge (@forbergenews) SEPTEMBER 7, 2023
Now, let's talk about Bianca Censori. She used to work for Kanye's Yeezy brand, and she's no stranger to turning heads. On this particular day, she wore a see-through nude bandeau top paired with black shorts and high heels. Her outfit, or the lack thereof, got folks talking, and they didn't hold back their thoughts on social media.
One local resident had this to say,
"I mean, seriously, these folks are something else. If they put on some regular clothes, they wouldn't need to bring a hotel cushion along for sightseeing. Plus, they'd have their arms free! It's a simple idea, really."
Another person chimed in,
"Kanye and Bianca Censori seem to be living in their own world. Maybe someone should step in and offer some guidance. Walking around with a pillow? And him in socks?"
But the drama doesn't end there. The couple faced a previous ban from a boat company in Venice after a jaw-dropping incident that left everyone in shock. Kanye West decided to bare his backside to those around while Bianca Censori rested her head on his lap, adding even more spice to their unconventional behavior.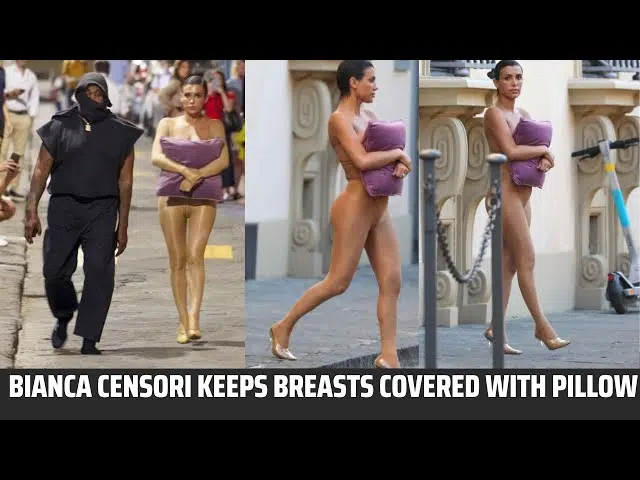 Venezia Turismo Motoscafi, the boat company involved, wasn't having any of it. They said,
"Sorry, but this couple is no longer welcome on any of our boats."
They explained that their staff had no clue about West's antics since they were busy managing the boat traffic.
The local authorities also came in to add, reminding one and all of some basic rules of decency, which go for both the tourists and the locals.
Breaking these rules has its consequences.
As the buzz on Kanye West and Bianca Censori remains the talk of the town, one question remains: Will this daring couple change their fashion, or will they stay and dare society to accept the new norm?