It gives HypeFresh great pleasure to announce the new editorial series rightly titled Hip-Hop Immortals. The Hip-Hop Immortal series pays deserved honor to rap icons whose music and spirit continue to impact music culture.
1. The Bridge Between Tupac Shakur and Hip-Hop
Earl Simmons, aka 'DMX,' took the hip-hop baton from Tupac Shakur in 1998 and continued rap's most polarizing vision. Hip-hop remains based on authenticity and real life circumstances. Rap is religion in the community. Besides being an instructional survival guidebook for youth culture. However, rap music's raw authenticity attracts people of all human races and backgrounds.
Unlike in any other music format, hip hop music operates as a cultural roadmap for the world. We should note that people worldwide examine lyrics from rappers like DMX to understand themselves and African Americans.
Clearly, the world understands that hip-hop is the undisputed leader of pop culture. Hip-hop legends, such as DMX, highlight the strength of African American creativity. Without a doubt, hip-hop has changed the way people perceive life, social justice, politics, and love.
Painful Childhood Created a Hip-Hop Warrior
Living as hip-hop icon Earl Simmons, he never felt ashamed to live and speak his true story before the world. Differing from most kids' childhoods, DMX endured physical and mental abuse during his younger years. Growing up without having a full-time father is difficult for any child. His mother's multiple boyfriends provided an unbalanced and violent environment.
Seeing multiple men in his mother's life, he experienced aggressive beatings and no love. DMX's mother's boyfriends punched him so hard in the jaw one night that he lost several teeth.
Having an abnormal childhood gave him a sink or swim mentality. As a child, he suffered from bronchial asthma and spent multiple nights fighting for his life in the hospital.
God sent one of his angels to guide his every step and provided a spiritual light during his darkest moments. Whereas most people would give up on life under these circumstances, Earl Simmons forced himself to see his divine purpose.
The Immortal Legacy of DMX
Before he became the iconic DMX, he was a prophet carrying God's message.
Celebrating his legacy for the last 20 years, DMX's lyrics, prayers, and music vision have captivated the world. His live performances felt like a baptism and celebration. Notwithstanding, he's the only artist that can stand on stage and instruct 100,000 people to pray for each other.
His words are so powerful because they force a person to analyze their deepest fears and secrets. DMX died on April 9, 2021, and the world mourned his loss. Earl Simmons, the spiritual warrior, continues to educate and guide the next generation of DMX's.
2. Birth of Notorious B.I.G. aka Biggie Smalls
He was born Christopher George Latore Wallace on May 21, 1972, and on March 9, 1997, he died as the iconic Notorious B.I.G. aka Biggie Smalls. Undoubtedly, he's considered one of the greatest rappers of all time, besides changing the landscape of hip-hop music forever. He redefined the perception of being Black and ugly as ever. Biggie's epic storytelling and distinctive rap flow set him apart from the competition.
Brooklyn is home to Wallace, the only child of Jamaican immigrants who lived at St. Mary's Hospital when he was born on May 21, 1972. Voletta Wallace, his mother, who worked as a preschool teacher, and Selwyn George Latore, his father, was a welder and politician.
Rasing Biggie
Voletta raised Biggie by herself since he was two years old. His father abandoned the family in disbelief. Besides teaching preschool, Voletta worked two jobs and raised her son. Voletta believed in religion and grew Biggie as a Jehovah's Witness during his childhood years. Clearly, Voletta wanted Christopher to have a relationship with God and believe in a higher power. I should note that Biggie would use those spiritual lessons in his legendary rap lyrics.
Rapping on street corners in Bedford-Stuyvesant caught the attention of N.Y.'s top-flight DJ, Mister Cee. Mister Cee recognized his talent instantly and knew Biggie was a rare jewel in rap culture. Besides Biggie being a future rap star, Mister Cee understood his importance to the New York hip-hop scene.
Born a Legend
Having talent is a minor element of being a music superstar. Besides being a great rapper, a person must possess the intangibles necessary to become iconic. In 1993, he signed with the upstart record label Bad Boy Entertainment. Bad Boy Entertainment, led by Sean Combs, became the perfect system for him to succeed.
Thinking of Biggie as the future of hip-hop, Sean Combs made sure his fashion, rap flow, and public image were timeless. Being that he had a lazy eye, a partial Jamaican accent, and was overweight, he would become a sex symbol in our modern era.
At the beginning of Biggie's career, Misa Hylton, Sean Combs's girlfriend, created the high-fashion marketing concept. Misa's creative brilliance paid off, and 'Big Poppa' was born.
Wearing expensive suits, sweaters, shoes, and hats painted a cool and sexy appeal for a broad audience. His popularity soared overnight and captivated the world. Big Poppa's sound and rap delivery changed hip-hop forever, and no one ever duplicated his impact. He proved that anything is possible if you believe in yourself.
Legends Never Die
Releasing only two albums in his brief career, Ready to Die and Life After Death, have sold over 20,000,000 million copies worldwide. Besides creating a sound that continues to influence youth culture. You will hear "Hypnotize", "One More Chance", "Big Poppa", and endless classic hits from his catalog at every party, nightclub, and fraternity party.
Having his life cut tragically short didn't impact his music legend or legacy. The Notorious B.I.G. is Hip-Hop Immortal.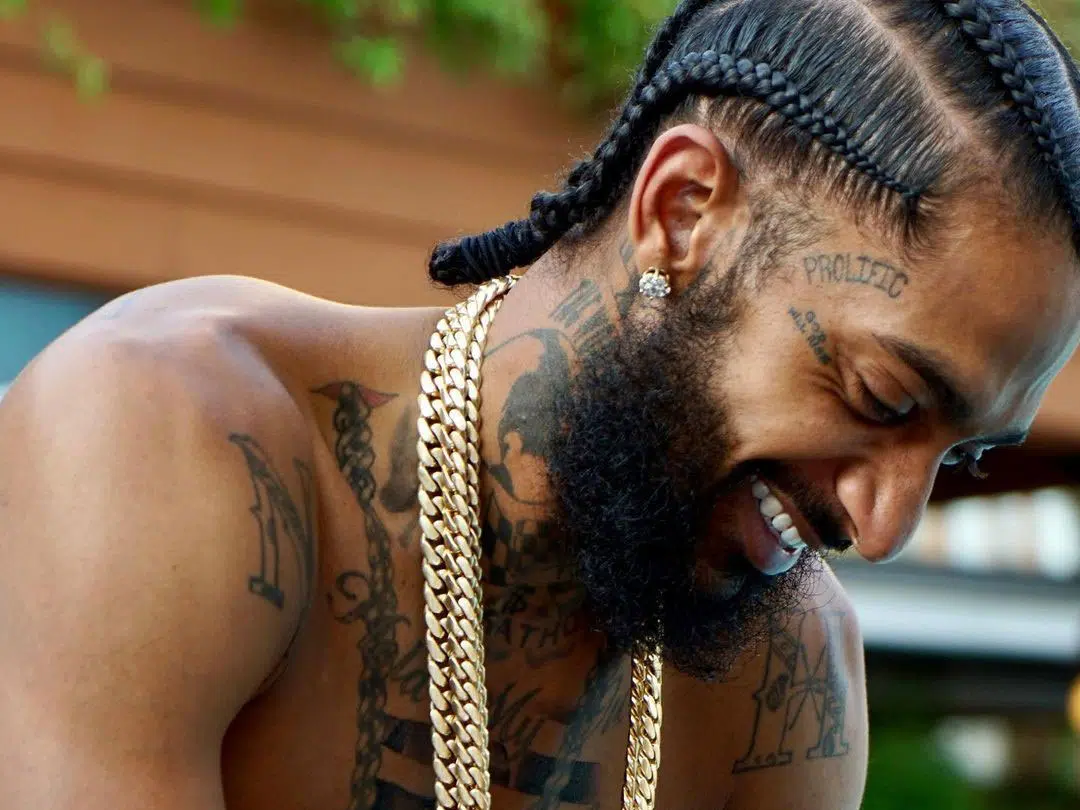 3. The Marathon Continues in 2021 and beyond
I Have a Dream
Having a dream is a powerful mental vision gifted by God to humans. In addition to being the motive force behind life's greatest success stories. Thinking of becoming something special in this world requires a matchless disciplinary mentality and tunnel vision. Understanding your purpose in life produces an authentic aura and peace of mind. Creating a mastermind plan involves long days and endless nights. Feeling unstoppable when the moment of fear arrives is the mark of a natural leader. Undoubtedly, only a select few out of millions of people attain this level of mental toughness. Legendary people are born and not created.
Legend of Nipsey Hussle
Ermias Joseph Asghedom, also known as Nipsey Hussle, redefined the term "hustling." Hustling is a common phrase used in African American communities that reveals a person is accomplishing "big things." Excelling at the art of hustling requires a unique mindset, effort, and somewhat insane blueprint. Selling a mixtape of $100.00 when everyone else's price averages between free and $10.00. Imagining himself being a billionaire and buying his block – he never doubted the process.
Creating a limited edition of his mixtape Crenshaw of only 1,000 copies, he sold out in 24 hours upon release. Observing his grind and entrepreneurial spirit was legendary rapper Jay Z. Jay Z purchased 100 individual copies of "Crenshaw" and personally endorsed Nipsey's hustle.
The Marathon Never Ends
Nipsey Hussle created and launched "The Marathon Continues" movement. This movement is now globally recognized and defines his legacy. Nipsey Hussle never depended on mainstream radio or big corporate companies to fuel his vision. Everything with him is centered on empowering and educating people.
He bought the block and surrounding buildings before he signed any deal. Crenshaw and Slauson Avenue are famous because Nipsey Hussle would never let them die.
Also, Nipsey Hussle and his business partners launched the "Marathon Clothing" store in 2017. Defying traditional clothing store designs, Marathon Clothing store allowed people to purchase Nipsey's music from attached smart tags.
He also hired felons to give them a second chance at redemption and financial success. Calling him "Neighborhood Nip" became a label that reflected his genuine love for people.
In addition, he released "Victory Lap" on February 16, 2018, highlighting his long journey to rap supremacy. Nipsey Hussle always said, "The marathon continues doesn't mean I always got it right; it means I never gave up." His humanitarian and entrepreneurial hustle provides a blueprint for the next generation of hustlers.