Episode 5, What if…Zombies?!; The Zombie Avengers

While, Mark Ruffalo promotes and leaks secret's to Marvel's episode 5 of What if…Zombies?!, Shang-Chi makes a blockbuster debut labor day weekend.
If you're still here, I hope you can keep a secret about tomorrow's episode of #WhatIf… pic.twitter.com/AhuZ8xHACM

— Mark Ruffalo (@MarkRuffalo) September 7, 2021
Alas, via the sneak peek video, for Episode 5, What if…Zombies?! Unfortunately, more doom and gloom blossom in this dystopian reimagining of Earth's Mightiest Zombies.
11 Moments from Episode 5, What if…Zombies?!
Here are 11 moments from the latest episode, 5, of Marvel's What if…series. The question everyone always wanted to ask, What if the zombie apocalpse happend in the Marvel Universe. This series gives us answer: The Zombie Avengers.
Patient Zero: Janet Van Dyne
1. In this universe, Janet Van Dyne contracted a quantum virus corrupting her brain. Upon reuniting with Hank Pym, the virus spreads.
2. As, the Avengers step in to fight the undead, they failed. At that moment,  Banner returns to warn the others of Thanos. But, what he witnesses is that both Ebony Maw and Cull Obsidian have been murdered by what appears to be Tony Stark, Doctor Strange, and Wong. However, upon a closer look they are not themselves. Instead, they are zombified versions of themselves.
3.The Cloak of Levitation is the real superhero flying in to save Banner, Spider-Man, and Wasp.
Survivors Attempt to Find a Cure
4. At this point, other survivers include: Bucky Barnes, Sharon Carter, Happy Hogan, Kurt and Okoye. Additionally, they are looking to make contact without another camp to produce a cure.
5. But, then, zombiefied Falcon and Hawkeye attack and kill Happy.
6.Next, a Zombiefied Captain America turns Sharon and attacks friend, Bucky Barnes.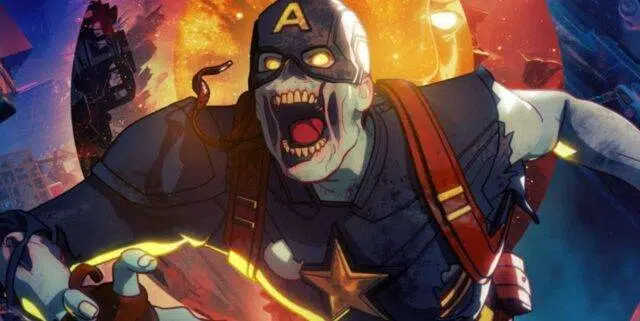 7. Moving on, Hope enlarges and sacrafices herself to give safe passage for the rest of the group of survivors when ambushed by Zombies at Camp Lehigh.
Wow! Vision's Dark Dark Secret
8.Furthermore, the "cure" is evident when the live heroes encounter Vision at Camp Lehigh. Vision is able to cure Scott Lang and others with his mind stone. But can someone explain to me why Scott is just a head now?
9. Unfortunately, Vision is holding back a horrible secret. It seems, Vision has been keeping a Zombiefied Wanda in hopes to find a cure for her. Currently, her powers do not allow for her to be cured by Mind Stone. But, in shocking twist, he has been feeding her living beings and T'Challa was presumably Wanda's next dinner. Nah, Did we have to do T'Challa that way?
Moving Onward to Wakanda
10. Disastrously, Wanda escapes threating the entire group, Vision helps them escape but he stays behind with Bruce Banner and Bucky Barnes. Fortunately, T'Challa (thankfully, not dead), Spider-Man and Scott's head attached to the Cloak of Levitation make a promising journey for Wakanda. There, they could use their technology to produce a cure.
11.Yet, at this moment, Thanos is seen with four of the five stones missing the mind stone. Finally, it appears he is preparing to create the snap possibly ending the zombie invasion. So, is Thanos just misunderstood? And, Could he actually be the hero in this story?