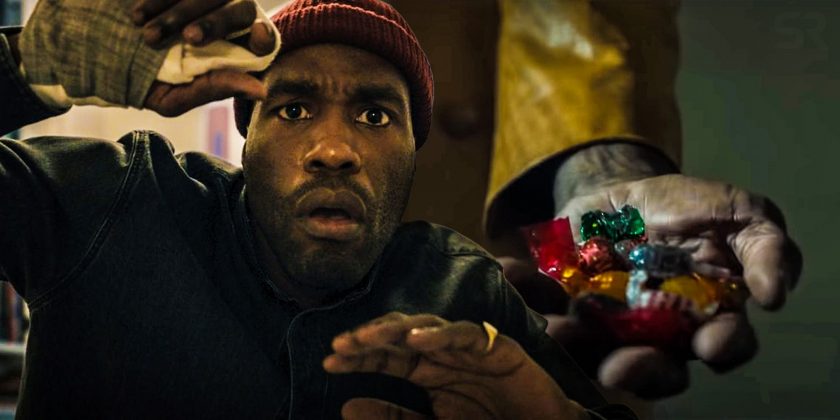 Jordan Peele executes his genius once again in his rendition of the 1992 cult classic, Candyman. Say My Name by Destiny's Child hums eerily in the background as the 2:27 minute trailer teases the new "Candy Man". According to Complex.com, the 90's pop hit rebirths and trends on modern streaming since it's 1999 debut.
On November 7, 1992, Candyman hit the box office at a whopping 25.8 million. Whereas, Peele's take came in a little lower at 22.3 million on August 27th of 2021. The movie made history. This is the first time an African American woman snagged the number one box office slot.
Yahya Abdul-Mateen II stars as Anthony McCoy, a visual artist who mirrors the original Candyman. Anthony takes on a diabolical persona after he's kidnapped and cursed by the evil laundromat owner in the now gentrified housing project.
According to USA Today, co-star Teyona Parris as Brianna Cartwright, attributes the death of Brianna Taylor as being a surviver in the film.
DaCosta envisions a plot twist where the protagonist, McCoy shields Cartwright from racist cops. This euphemism exemplifies how Brianna would still be alive if someone shielded her.  This unconventional love story, although chilling, is a great way to remember victims of police brutality.
According to Wikipedia, DaCosta wrote and directed her debut directorial movie, Little Woods. The screenplay, originally chosen to be featured in Sundance Film Festival gained the attention of many. According to indiewire.com, the director explains her motivation for writing and directing.
"In film school, they teach us to write what we know, and I used to interpret that literally," DaCosta explained. "But then I understood that it's about writing what I know emotionally. That's how you connect with people who are different from you and have lived different lives."
Be sure to get to your nearest theatre to watch the American classic.