Performing live has been described as one of the most exhilarating experiences ever by artists and entertainers alike. Not to mention, touring the world means experiencing new things and meeting new people. While going on tour can be fun, there's tons of things that can go wrong. During a recent live performance, Post Malone fell through the stage floor! Fortunately, the rapper remains in stable condition. Talk about a scary moment!
The Rapper Nearly Messes Himself Up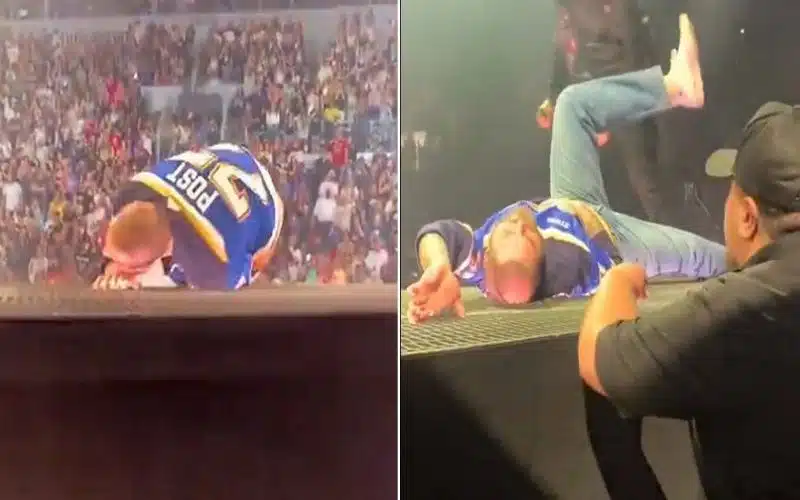 Plenty of singers, rappers and entertainers have fallen on stage numerous times. However, none have ever fallen through the stage floor! Though, that's showbiz for you, anything can happen in a given moment.
As mentioned before, Post Malone fell through a huge hole on stage during a live performance at the Enterprise Center in St. Louis this past weekend. Clearly, things aren't looking good for the rapper. Furthermore, sources stated that the rapper tripped over into a hole in the stage and dropped to the ground, crying in pain. Oddly enough, the rapper continued performing like nothing happened.
Even a fan tried to help Malone by offering him a beer, which the "Better Now" emcee gladly took a swig of. Guess his Twelve Carat tour might be ending with a huge bang!
He Apologizes To The Fans On Social Media
Clearly, Post Malone is a trooper. After falling through a hole on stage and damaging his ribs, the "I Like You" rapper still continued his set! The moment got even better when the rapper apologized to the fans for his accident, even though it wasn't his fault the stage collapsed.
Nonetheless the rapper assured fans that after his visit to the hospital, he's doing fine. In particular, he promised St. Louis fans that he'll do a 2-hour performance when he's back in town. There's no word yet from his team whether or not his injury from the fall will impact future performances on his tour leg. Although, after taking the pain meds, Posty seems ready to go for his next performance in Columbus, Ohio. Fans have until February 2023 to catch the rapper live on stage!