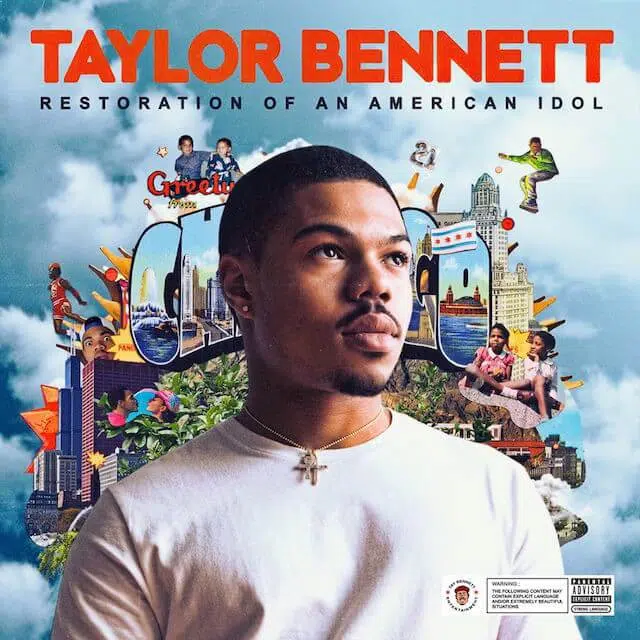 Taylor's Restoration Of An American Idol,  is his moment, but he isn't awarded his rightful validation. According to DJ Booth, it is said Taylor is "creating music during the height of his older brother's popularity, a peak that continues to ascend with his every step forward." Even though they have the same last name, share a strong resemblance, and even vocally are similar in their music―it seems impossible for Taylor to escape his brother.
Taylor rightfully deserves recognition for his work and to not be defined in his brothers shadow. With the release of his project Restoration Of An American Idol, it's safe to say Taylor has his own lane and he's giving the world a taste of what he has to offer.
Here are three of the best songs on the short project, that has me riding with Taylor:
1. Intro (The Kid's Alright) [ft. Princeton of Mindless Behavior]
Taylor raps on "Intro," "I had to show him that I'm not LeBron/Can't vote for no future that's frivolous/My shoulders got broader, my music got smarter/I work like this shit is a privilege,"  summing up what many are thinking: Taylor Bennett is only famous thanks to Chance. While it may be true, it's a statement that doesn't give credit to a talented musician.
2. Favorite Colors (ft. KYLE & Luke Tennyson)
Taylor raps, "I need them VMA's it's in my DNA/I ain't no deity but I still contemplate / Complicate, conversate, me on that BET/MTV, what that shit meant for me," His brother weighing heavily on his mind, his career and the track, he is showing that with both stress and competition it will bring upon success for him.
3. Grown Up Fairy Tales (feat. Chance the Rapper & Jeremih)
An unexpected feature by his brother, Chance, and Jeremih on this track but this shows that Taylor can stand out when working alongside artists who lyrically are amazing.
Many expected Taylor Bennett to dive deeper into his level of vulnerability in his music that no one really knows, especially after his sexuality announcement. However he doesn't touch on that part of his life on the Restoration Of An American Idol, instead gives us bits of his life with a mixture of jubilant flows and multi-syllable rhymes. Even though people expected a bit more from Taylor, I think it works for the type of artist he is. Taylor told The FADER:
"Something that I always try to do is leave very open perspectives for anybody. Like I said, when I write , I try to write it for everybody. In the future, who knows? I think it's all about experience and I try to write real-life situations, so if it happens, then of course. But if not, then I wouldn't do it, 'cause it wouldn't be . [Laughs.] But I mean, in the future, like I said, there's infinite possibilities, but you know when I wrote that song, I wrote it specifically about a girl and a relationship I was in."
The Bennett brothers may share a couple of similarities but they are taking two different approaches in the industry and shouldn't be compared. Taylor is experimenting. He is resisting the urge to follow trends and focusing on his wordplay, as well.Taylor Bennett has given me some great tracks that you might just catch me jamming to for the rest of the year.