You will want to attend the upcoming Independence Day celebrations in New York City! Whether you're a local or just visiting, the city has covered you with fantastic events. From spectacular fireworks displays to fun-filled family festivals, there's something for everyone to enjoy. Prepare to experience the lively atmosphere of New York City and create lasting memories this Fourth of July. When searching for best nyc 4th of july events, you'll come across diverse options suitable for all ages and preferences.
Planning the perfect holiday can be daunting, especially with many events. To assist you in making the most of your celebration. We have compiled a list of the best nyc 4th of july events. Allow us to guide you toward an unforgettable experience. Whether you're looking to watch the fireworks light up the skyline or enjoy live music and entertainment, our list covers you.
Join together with your loved ones, including your friends and family, and don your vibrant red, white, and blue attire. Embrace the spirit of patriotism as we commemorate America's birthday in this truly magnificent city!
Macy's 4th of July Fireworks Spectacular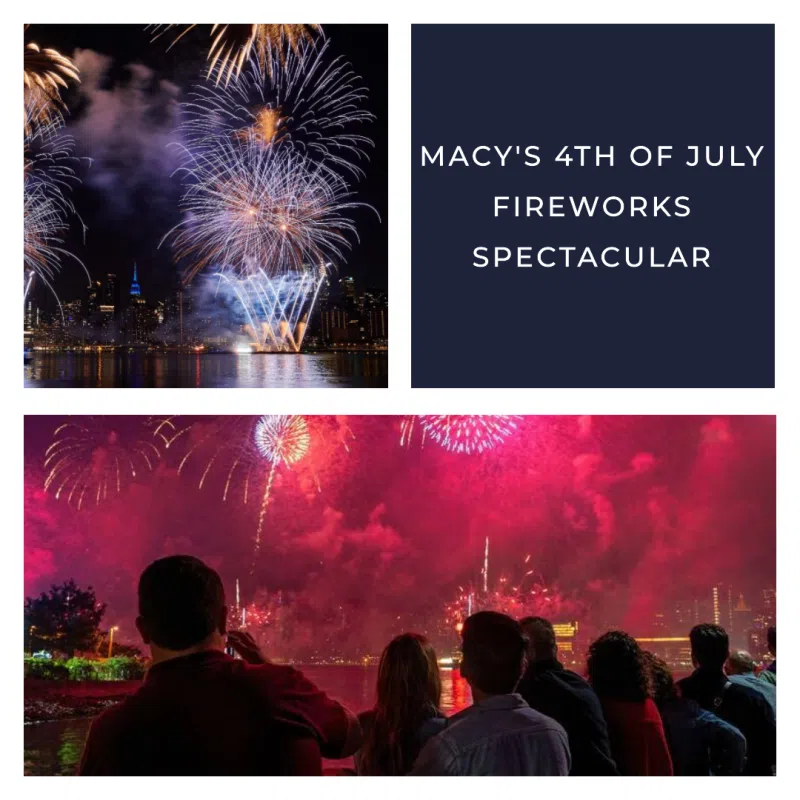 One of the ideal ways to celebrate the 4th of July in NYC is to witness the iconic Macy's fireworks display. It's a spectacular show, lighting up the sky in a grand display of patriotism and celebration.
The event takes place over the East River, and plenty of viewing spots exist. Countless options exist whether you choose to watch from Manhattan, Brooklyn, or Queens. Several highly renowned sites in New York City include the esteemed Brooklyn Bridge Park, the iconic South Street Seaport, and the beloved Battery Park Esplanade.
This year's display promises to be bigger and better than ever before. Macy's presents a great show with dazzling pyrotechnics, exciting music, and stunning colors. Whether you're a lifelong New Yorker or just visiting for a holiday, the Macy's 4th of July Fireworks Spectacular is to be noticed.
Macy's 4th of July Fireworks Spectacular Details
| | |
| --- | --- |
| Date: | July 4th, 2023 |
| Time: | 9:20 PM – 9:50 PM |
| Location: | Over the East River |
It is highly recommended to arrive early to secure a favorable spot for viewing. Even though the fireworks show lasts only thirty minutes, many popular locations can become crowded, so keep that in mind as you plan your day for the best nyc 4th of july events.
If you are interested in a one-of-a-kind opportunity to witness the spectacular Macys fireworks show. Consider reserving a spot on a delightful fireworks cruise. These cruises offer unparalleled views of the show, along with dinner, drinks, and live entertainment.
"The Macy's 4th of July Fireworks Spectacular is not to be missed."
Governors Island Family Festival
Are you searching for a family-friendly way to commemorate Independence Day in the bustling city of New York? Head to Governors Island for various exciting activities and entertainment for all ages. From food vendors to live performances, there's something for everyone to enjoy.
| | | | |
| --- | --- | --- | --- |
| Event Details: | Date: July 4, 2023 | Time: 10AM – 5PM | Location: Governors Island |
One of the main draws of the Governors Island Family Festival is the variety of attractions available. Kids can participate in face painting, balloon twisting, and scavenger hunts. Local artists and musicians contribute to the festive atmosphere with their live performances. While a range of food vendors provide savory treats to ensure you stay energized throughout the day. Additionally, don't forget to appreciate the fantastic sights of the beautiful Manhattan skyline and the Statue of Liberty from the island.
In addition to the ongoing activities, several unique attractions will be available on Independence Day. These include a carnival with games and prizes, a water slide and other inflatable rides, and even a zip line. Admission to the festival is free, with some attractions requiring tickets or a fee.
To fully enjoy your day on Governors Island. To enhance your visit. It is recommended that you arrive early to surpass the large crowds. This will grant you ample opportunities to embrace and enjoy your time there fully.
Coney Island 4th of July Celebration
Looking for a fun-filled Independence Day celebration?
Head to Coney Island for one of the best nyc 4th of july events!
The famous Nathan's Hot Dog Eating Contest is one of the day's highlights, drawing contestants and spectators worldwide. If you're feeling courageous, consider joining the competition against the current champions to win the highly esteemed Mustard Belt potentially.
Multiple live music and entertainment options can be discovered along the boardwalk, designed to suit numerous tastes and preferences. Ride on the Coney Island Cyclone or other thrilling amusement park attractions to add to the day's excitement.
Moreover, it is worth mentioning that the Coney Island fireworks exhibition holds immense appeal for the audience, as it gracefully bathes the dark heavens in a breathtaking spectacle of diverse hues and elaborate designs.
Brooklyn Bridge Park Independence Day Celebration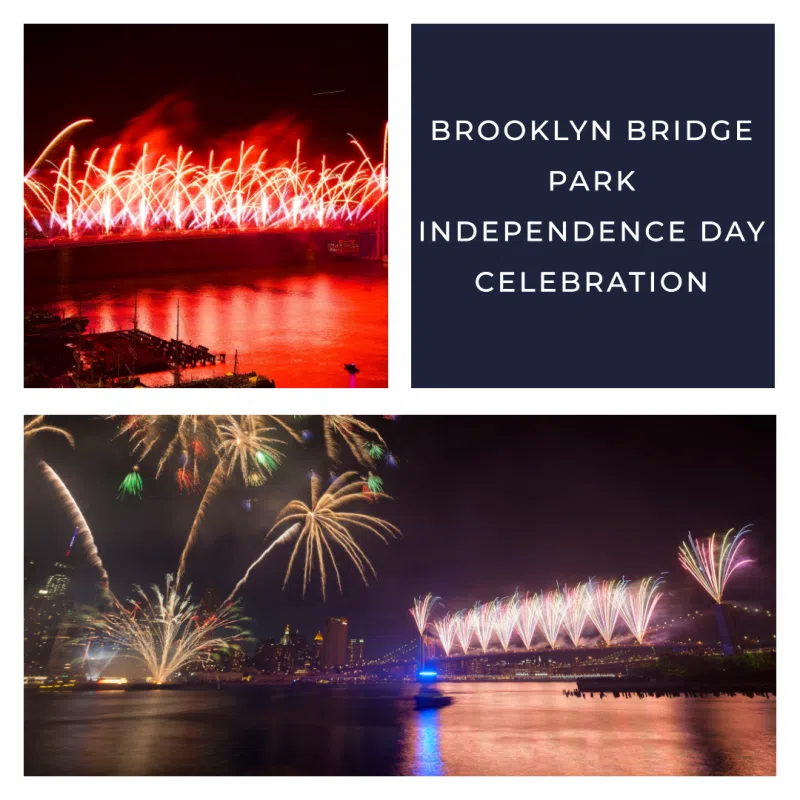 Brooklyn Bridge Park stands as a beautiful location for commemorating Independence Day in the vibrant city of New York. Annually the park graciously embraces an awe-inspiring celebration that offers breathtaking vistas of fireworks and an array of entertainment choices suitable for all family members.
The celebrations will begin on July 4th from noon until 10:30 pm. Guests will be able to enjoy live music during the event. Sample delicious food from some of the city's finest vendors. And soak in the vibrant carnival ambiance. The highlight of the evening will be the spectacular fireworks display illuminating the sky over the East River around 9:30 pm providing a truly unforgettable experience.
Furthermore, visitors can engage in various outdoor activities the park offers besides the festivities, including basketball and volleyball courts, bicycle rentals, and scenic waterfront promenades. This locale is an ideal destination for an enjoyable day spent with loved ones.
Ensure you arrive early to secure a prime spot to watch the fireworks. Remember that the park can get crowded, so come with plenty of time and plan accordingly.
Brooklyn Bridge Park Independence Day Celebration Highlights:
Live music
Food vendors
Waterfront Promenades
Outdoor activities
Spectacular views of fireworks
Statue of Liberty 4th of July Cruise

Enhance your 4th of July festivities with an enchanting experience on a Statue of Liberty cruise! This delightful journey promises a front-row seat to witness the brilliant fireworks illuminating the night sky.
As you revel in this memorable occasion. Indulge in a lavish dinner. Partake in an open bar. And delight in live performances. Numerous cruise alternatives are at your disposal, each offering its unique charm. Some even provide privileged access to the Statue of Liberty and Ellis Island, while others focus solely on the awe-inspiring fireworks display.
Regardless of your preference, prepare to be captivated by awe-inspiring city vistas from the tranquil waters.
| Cruise Option | Departure Time | Duration | Price |
| --- | --- | --- | --- |
| Fireworks Dinner Cruise | 7:00 PM | 3 hours | $199 per person |
| Statue of Liberty and Fireworks Cruise | 6:30 PM | 4 hours | $279 per person |
| Family-Friendly Fireworks Cruise | 8:00 PM | 2 hours | $129 per person |
Tickets for these cruises sell out fast, so book in advance to secure your spot to experience one of the best nyc 4th of july events.
Note: Due to safety regulations, most boats require guests to wear face masks. Please check with the individual cruise company for any additional safety protocols or requirements.
Central Park SummerStage Concert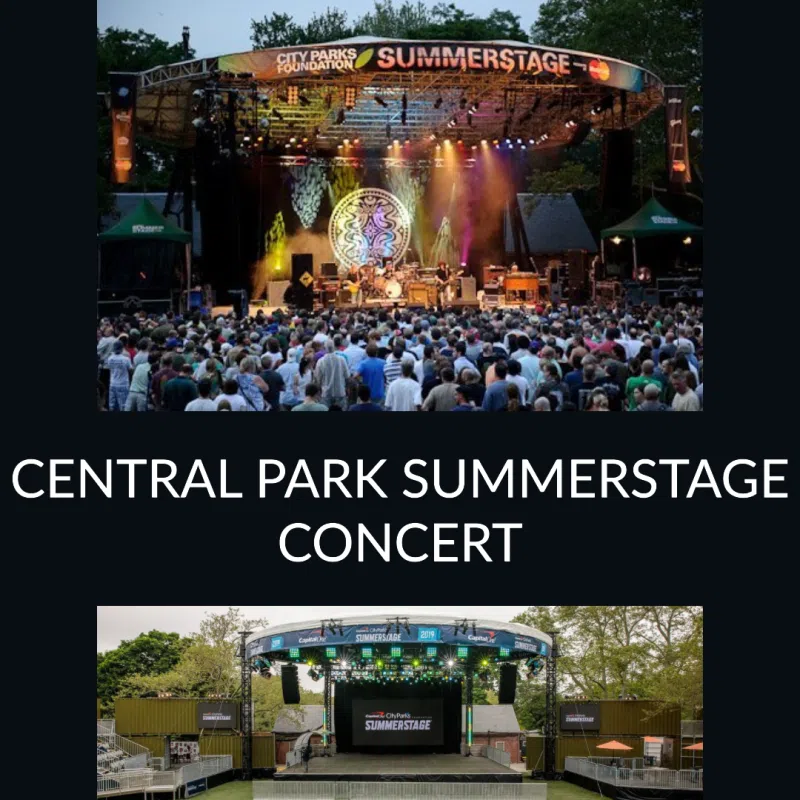 Should you desire a pleasurable and spirited approach to observing the festivities of the 4th of July within the lively city of New York, consider attending the Central Park SummerStage Concert without further delay. This annual event features talented musicians who will keep you entertained all night.
The concert is free to attend. Nevertheless, those seeking a heightened experience can acquire VIP tickets through purchase. Precisely at 3 PM, the grand entrance gates shall be unveiled while the inaugural act makes its debut on stage promptly by 5 PM. We humbly ask attendees to arrive well-prepared for unexpected weather patterns that may manifest during this spectacular affair.
This event will persevere undeterred by unfavorable weather conditions; thus, we urge you to dress suitably and contemplate carrying an umbrella if circumstances deem it appropriate.
Lineup:

7:00 PM – DJ Reborn
8:00 PM – Gavin DeGraw
9:30 PM – The Aces

Location:
Central Park, Rumsey Playfield, Entrance at 69th St and 5th Ave
Transportation:
Take the 6 train to 68th St-Hunter College or the N/R/W to 5th Ave/59th St. The M2, M3, and M4 buses also stop nearby.
What to bring:
Blankets and/or lawn chairs, snacks and water (no glass bottles), and sunscreen.
Celebrate Independence Day and enjoy great music in the heart of New York City's cherished Central Park.