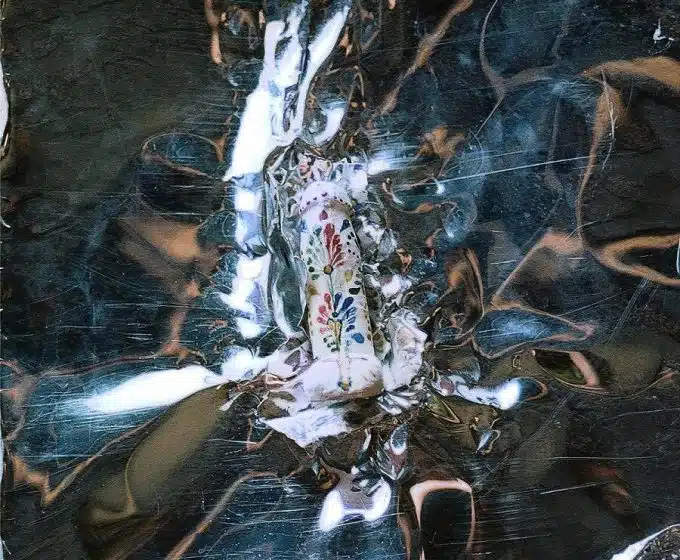 So many artists, so many songs, so little time. Each week we review a handful of new albums (of all genres), round up even more new music that we'd call "indie," and talk about what metal is coming out. We post music news, track premieres, and more all day. We update a playlist weekly of some of our current favorite tracks. Here's a daily roundup with a bunch of interesting, newly released songs in one place.
ACID KING – "DESTINATION PSYCH/BEYOND VISION"
San Francisco doom vets Acid King will release their first album in eight years, Beyond Vision, on March 24 via Blues Funeral Recordings. The new nearly-eight-minute single "Destination Psych/Beyond Vision" finds them less in metal territory and leans more directly into '60s-style psychedelia.
—
KELELA – "CONTACT"
Kelela's anticipated new album Raven is out next month, and the latest single is the dancefloor-ready "Contact." "'Contact' has a little bit of something for every part of the night," Kelela says. "It's a soundtrack for 'pre-gaming' (a song to play as you're getting ready or on your way to the club). It's also the interior club experience: the heat that envelops you when you walk into a packed rave. All this culminates in a very naughty, psychedelic moment in the back of the club with a lover."
—
SWIM CAMP – "DOUGIE (FOR SHARYL)"
Swim Camp (aka Tom Morris) has announced a new album, Steel Country, due February 24 via Julia's War Recordings, the label curated by They Are Gutting A Body Of Water bandleader Douglas Dulgarian. Along with the announcement comes new single "Dougie (For Sharyl)," a dose of breezy, calming indie rock that Tom says is "about developing a codependent friendship with someone who is not good for you."
—
SOFTCULT – "DRESS"
Softcult will release their new EP see you in the dark on March 24, and their new single "Dress" and its video tackles sexual assault, consent, and "the lingering fear and trauma that haunts us long after these experiences have happened" over a backdrop of grungy dream pop.
—
LISEL – "IMMATURE"
Lisel's latest single from her new album Patterns for Auto-Tuned Voices and Delay is another layered, experimental vocal track, accompanied by a video directed by Kate Watson-Wallace. Of the video, Lisel says, "It's the repetitive movements that only develop minimally, as well as the small, pedestrian, everyday nature of the gestures and set design. Interacting with everyday objects and gestures but in a repetitive way that changes the nature of their meaning."
—
TITHE – "PARASITE"
Tithe have shared another single off their upcoming album for Profound Lore, Inverse Rapture, and this one finds them starting off in sludge metal territory before heading into their usual blackened fury.
—
MODEL/ACTRIZ – "CROSSING GUARD"
Brooklyn's Model/Actriz have announced their debut album, Dogsbody, due out February 24 via True Panther, and shared a new single. "Crossing Guard" is a slice of dark dance-pop accompanied by a video directed by Nathan Castiel, who says, "I wanted to depict a day in the life of a normal suburban American family."
—
WILLIE NELSON – "BUSTED (HARLAN HOWARD COVER)
Willie Nelson announced a new album I Don't Know A Thing About Love, due out March 3 via Sony/Legacy. It's a tribute to American songwriter Harlan Howard, with new renditions of ten of his songs, and the first is "Busted," which was a hit for Johnny Cash with the Carter Family, Ray Charles (who also recorded a duet of the song with Willie in 2005), and John Conlee.
—
INSOMNIUM – "THE WITCH HUNTER"
Finnish melodic death metal vets Insomnium have shared another towering new single from their upcoming album Anno 1969.
—
HEARTWORMS – "RETRIBUTIONS OF AN AWFUL LIFE"
London artist Heartworms (real name: Jojo Orme) has announced the A Comforting Notion EP which is out March 24 via Speedy Wunderground. The lead single is "Retributions Of An Awful Life," a sharp, danceable number that recalls the post-punk resurgence of the mid-'00s. "The song itself lyrically is deeply unsettling, I wanted it to come alive in action," says Heartworms of the song and its striking video. "I had an idea of being kitted up in full militaria of no specific regiments, in black and white, putting my body through cold water and wet mud. This was stepping outside my comfort zone because I'm not a skilled swimmer; deep water frightens me immensely, especially when cold and in full military gear."
—
TRUTH CLUB – "IT'S TIME"
Raleigh, NC's Truth Club are back with their first single since their 2019 debut, Not an Exit. "It's Time" is a driving post-punk track that flirts with mathy rhythms.
—
JENNY O. – "YOU ARE LOVED ETERNALLY"
Los Angeles-based songwriter Jenny O's new album Spectra is out in February on Mama Bird Recording Co., and the latest single is "You Are Loved Eternally." "The phrase 'You Are Loved Eternally' was hand-painted on an old mirror frame in my friend's grandfather's cabin," Jenny says. "Weeks after I visited in 2020, the cabin and everything it contained burned up in the Sequoia Complex Fire along with 10% of the world's giant sequoias. I imagine that mirror reflecting a room of flames before it too was consumed- the 1950's furniture, local nature books, even the iron wood stove melted. At that time someone I love deeply was in trouble, in depressive peril. I wrote this song for them, for me, for everyone I know and don't know. We get lost and fall disconnected from the warm glow of human connectivity, loving awareness, the web of life…"
—
THE CIA (DENEE & TY SEGALL, EMMETT KELLY) – "BUBBLES"
The C.I.A., aka the trio of Denee & Ty Segall and Emmett Kelly, release their second album, Surgery Channel, this week and here's more more preview before the whole thing drops. Powered by a dark, fuzzy bassline "Bubbles" is twisted stuff, as is its video.
—
NICK WATERHOUSE – "HIDE AND SEEK" AND "THE FOOLER"
Nick Waterhouse will release new album The Fooler on April 1 via Innovative Leisure which finds him still mining classic early '60s pop and R&B. Check out two tracks from it now.
—
GNOOMES – "LOOPS"
Russian band Gnoomes specialize in sleek, synthy grooves with an emphasis on repetition nods toward techno and komische. Their new album, Ax Ox, will be out March 3 via Rocket Recordings (the label that's also home to Goat). Get deep in the "Loops":
—
BONNY DOON – "CROOKED CREEK"
Detroit's Bonny Doon are working on their first album for ANTI- and while that hasn't been announced yet, they have just shared this warm, inviting new song. "We were trying to be more free in our writing and I think this song is a good example," says the band's Bobby Colombo. "We had a lot of fun with the words, which is sometimes not the fun part. I love writing with Bill's voice in mind, and he was able to really capture the spirit of this one I think."
—
TYONDAI BRAXTON & THIRD COAST PERCUSSION – "SUNNY X"
Ahead of the piece's premiere at Carnegie Hall later this month, Tyondai Braxton has shared Third Coast Percussion's recording of his piece "Sunny X" for electronics and four percussionists.
—
NICHOLAS ALLBROOK (POND) – "IF I HADN'T MET FEEFEE BROWN"
Pond's Nicholas Allbrook has shared this song, with proceeds going to Kimberly Flood Relief which is aiding "communities of the Fitzroy River are experiencing food shortages, power outages, loss and damage to property and so much more emotional devastation after Tropical Cyclone Ellie caused the biggest floods in WA history."
—
DUTCH UNCLES – "TROPIGALA"
Metroomy's Anna Prior helps out on Dutch Uncles' new single from their upcoming album True Entertainment (out March 10 via Memphis Industries). Says frontman Duncan Wallis, "I'd like to take this opportunity to thank her deeply for her incomparably sublime vibes."
—
AMBER ARCADES – "TRUE LOVE"
"The song is loosely about a weekend trip I took with my partner when we had been dating for a couple of months," says Amber Arcades. "That weekend everything just clicked for me and I think I fully realized then that I wanted to go for this person. That realization is so wonderful and scary at the same time! We put so much pressure on ourselves with regards to romantic love and all our wants and needs that we want it to fulfill. I also strongly realized that weekend though that the things I value in a relationship have changed through the years, what's important is more clear and things are simpler now in that way." Amber's new album Barefoot on a Diamond Road is out February 10 via Fire.
—
ALASDAIR ROBERTS – "EPPIE MORRIE"
Scottish singer-songwriter Alasdair Roberts will release new album Grief in the Kitchen and Mirth in the Hall on March 31 via Drag City. "Eppie Morrie" is the first taste of the album, a ballad involving kidnapping and heroism, all sung through Roberts' unique folk style.
—
COLLAPSING SCENERY – "GOLD RUSH"
Art-punk duo Collapsing scenery have announced new album A Desert Called Peace that will be out March 10. They've just shared new single "Gold Rush" that they say, "approaches the climate and biodiversity crises with gimlet eyed nihilism. It's a cri de coeur of apocalyptic joy, borne of hopelessness."
—
SLEAFORD MODS – "GRIM UK"
Sleaford Mods have announced new album UK Grim which will be out March 10 via Rough Trade. As usual the album speaks to the state of their nation, though this time perhaps moreso. The video for the title track was created by collage artist and satirist Cold War Steve.
—
EDDIE CHACON – "STEP BY STEP"
Formerly one half of '90s R&B duo, Eddie Chacon will release his John Carroll Kirby-produced new album Sundown on March 31 via Stones Throw. Here's the groovy new single.
—
NOEL GALLAGHER'S HIGH FLYING BIRDS – "EASY NOW"
Gallagher's new album Council Skies is out in June and features Johnny Marr on three songs, and the deluxe edition features remixes by The Cure's Robert Smith and Pet Shop Boys. The "Easy Now" video stars Milly Alcock from HBO's House of the Dragon.
—
YAEJI – "FOR GRANTED"
Yaeji has revealed details for her long-awaited official debut album, With A Hammer, and shared the lead single. Read about it here.
—
MSPAINT – "DELETE IT" (ft. MILITARIE GUN'S IAN SHELTON)
Hattiesburg, Mississippi synthpunk/art punk band MSPAINT have announced their debut album Post-American, along with the release of this great new single. Read about it here.
—
SCREAMING FEMALES – "BRASS BELL"
Screaming Females have announced Desire Pathway, their first new album in five years and eighth overall, and lead single "Brass Bell" finds them at their biggest-sounding and most anthemic. Read more about it here.
—
MANDY, INDIANA – "INJURY DETAIL"
"'Injury Detail' was inspired by the idea of being trapped in a liminal space, with the guitars creating a seemingly limitless and undefined landscape. The vocals act as a guide to possible salvation, or perhaps something of a more sinister intent," Mandy, Indiana vocalist and lyricist Valentine Caulfield says of their new single. Read more about it here.
—
FENNE LILY – "LIGHTS LIGHT UP"
UK-born, NYC-based singer-songwriter Fenne Lily says of her new single, "I'd never really written about love in the present tense before this, but even though I was still in love and not thinking about the end, there was something else going on subconsciously that led to a song about moving on before the moving on had begun." Read more about it here.
—
EMMA TRICCA – "KING BLIXA"
"King Blixa" is the first single from Emma Tricca's upcoming album Aspirin Sun. Emma said of the album, "It felt like I was driving through tunnels." Read more about it here.
—
SKINNY PELEMBE – "OH, SILLY GEORGE"
"Oh, Silly George" is the genre-evasive new single by UK-based artist Skinny Pelembe, taking influence from Afrobeat, retro soul, and psychedelia. Read more about it here.
—
NARROW HEAD – "CAROLINE"
Houston's Narrow Head shared shoegazey, melodic single "Caroline" off upcoming album Moments of Clarity today, alongside the announcement of a headlining US tour. Read more about it here.
—
NNAMDÏ – "SUDAFED"
"Sudafed" is a previously-unreleased track off NNAMDÏ's just-announced Please Have A Seat Deluxe Edition, although it's been part of his live show for a while. It's a quietly sad electronic track, with devastating hook "I had all my bags on the CTA/And it broke down/Then I broke down." Read more about it here.
—
SLEEPSCULPTOR – "AN EQUIVALENT EXCHANGE"
Wilkes-Barre, Pennsylvania metalcore band Sleepsculptor have shared another taste of their upcoming album Divine Recalibration and you can read about it here.
—
FULL OF HELL & PRIMITIVE MAN – "RUBBLE HOME"
The chaotic noisegrinders Full of Hell and the impossibly heavy doom/sludge band Primitive Man have announced a collaborative album, and you can read more about lead single "Rubble Home" here.
—
Looking for even more new songs? Browse the New Songs archive.
CyberSEO.net – ChatGPT autoblogging and content curation plugin for WordPress