Rapper Vic Mensa opened up about Juice Wrld and how hip hop contributed to his death.
In an interview with TMZ Vic Mensa got candid about hip-hops role in the late Rapper Juice Wrld's death. Mensa was asked how he felt about Lil Pump taking his song "Drug Addicts" out of his rolling loud set.
Vic responded by giving Lil Pump credit for the move. He then went on to call out members of the Hip-Hop community for the way they talk about drugs in their music. Mensa admitted that he too was irresponsible with his music at one time saying.
"In younger times, I definitely did not feel no responsibility to the youth or to anybody but myself. However, the rapper now feels that rappers need to realize that their music "influences children".
Mensa would go on to talk about his own battle with drug addiction and admitted he is just blessed to not have died himself.
Even more, Vic feels that seeing what happen to Juice Wrld gave him perspective on his experience with Drugs.
Vic Mensa isn't the first rapper to call out the Hip-Hop community for its role in the death of Juice Wrld. Shortly after Juice passed Joyner Lucas used social media to let people know Hip-Hop was responsible.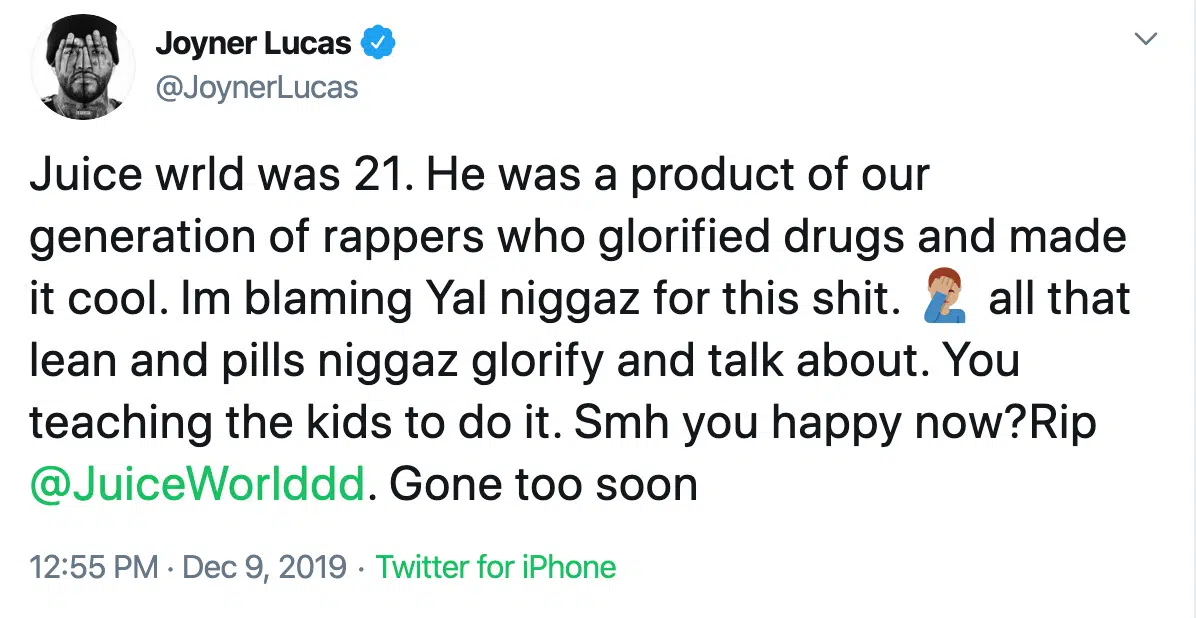 It's nice to see Rappers holding each other accountable for the content in their music. Drugs are apart of society, so it can't be expected for people to take it completely out of their music. However, The way it is glorified as if it's cool to suffer from addiction or mental illness that causes addiction needs to stop. Substance abuse is no joke, rappers need to start being real about the issues they are facing that is causing them to feel the need to do drugs.
Maybe if they stop glorifying and start trying to heal. Rap can have an effect on people it was originally intended to.  Hopefully, now that the conversation is shifting towards less glorification and more towards transparency that change will happen.
What do you guys think though? Is it just apart of the culture to rap about drugs? or is that played out and needs to change?
Let us know your thoughts in the comments.