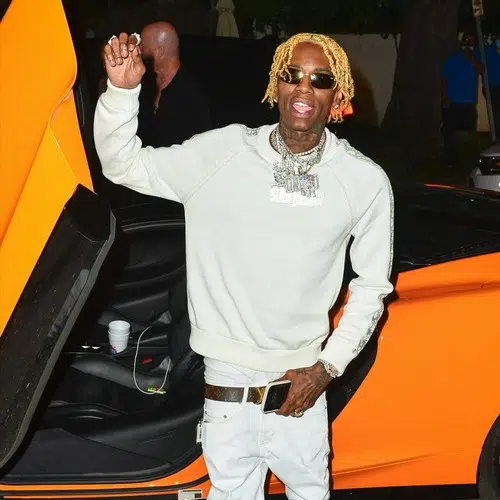 Big Draco, aka Soulja Boy for known for controversy on the internet. The rapper claims to be first rapper to do the trends that are popular today. Soulja, rocking blonde twists and a mouth full of golds draped in diamonds is no stranger to reminding folks of who he is.
In September of 2007, Soulja released his first single, Crank That, originally self-published and uploaded to the internet. The track later becoming a number 1 hit, topping the charts at number 1 for seven consecutive weeks. Since then, the rapper has continued to release hits that are commonly emulated by newer artists.
Rnbphilly.com mimics Soulja's favorite punchline, "I'M THE FIRST RAPPER TO…" Y'all better put some respeck on Soulja's name! Big Draco, ya'll already know what it is." However many can attest to Soulja's acclaims. He was in fact the first rapper to have his own game console, the first rapper on Youtube. He is the first rapper to do lots of things, deeming himself untouchable. The generation after him doesn't quite understand his disclaimers, however, they enjoy his tenacity and enthusiasm.
Donda the much anticipated album dropped on August 29, 2021. Soulja recorded a feature on the newly arriving masterpiece, however, Soulja's feature was removed without noticing him about it. Dismayed, the Pretty Girl Swag artist resorted to his fans on social media of Kanye's wrong doings. He calls Kanye a coward in a tweet, and concludes that he fake in another.
Fortunately, Big Draco is open to working with Kanye in the future, hotnewhiphopnews reports. September 2, Soulja tweeted that he would dropping a Kanye diss later in the evening. In spite of it all, he still admires Kanye, somewhat.
"I'm not really bothered about it, you know what I mean?" Soulja expresses. "I just wanted to explain the situation to my fans so they're not left in the dark. When it comes to making music, I'm always open to collaboration. There's no hard feelings where I won't work with Kanye again." However, he's not buying into any claims from Yeezy or Universal, dismissing them as false.